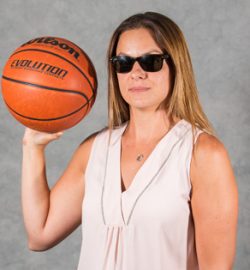 Show Megan the money! As Director of Development, she focuses on Sports Backers' philanthropic giving gifts from individuals, companies, and grants. She'll enter any gift we receive, manages our capital campaign, and has any breaking celebrity gossip news ready to go. As the honorary Director of Family Fun she also manages the President's Council, Sports Backers' young professional group that focuses on spreading our mission to the Richmond area. Megan went to school down the road at Randolph-Macon, and played on the women's basketball team with her now co-worker Megan Schultz (dream team alert!). Outside of the office she stays active running or walking with her husband Nick and their 7-year-old dog, a pit-mix named Ki. You can also find her shooting hoops, working out with X-Team, and playing on her dodgeball team. Phew…we're exhausted.
Email: [email protected]
What did you want to be when you "grew up": The first female baseball player for the Philadelphia Phillies or a Veterinarian.
Favorite Sports Backers Event:  Ukrop's Monument Avenue 10k presented by Kroger
Favorite Richmond Restaurant:  "Too many to choose from but I really enjoy Proper Pie."
Favorite place to be outside in Richmond:  Brown's Island, the T. Tyler Potterfield Memorial Bridge, and Pony Pasture