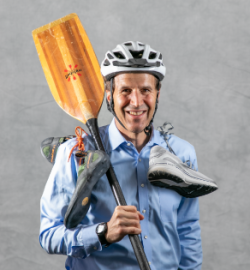 Every great organization needs a strong leader to encourage colleagues and get things done! As our Executive Director, Jon inspires and motivates our staff, volunteers, and donors to promote active living on a daily basis. He doesn't just come up with ideas, he helps execute even when that entails getting a little dirty. As a kid Jon wanted to be a park ranger, which isn't too far off since he knows almost everything about the great outdoors of Richmond. In his off-time (and sometimes his on-time) you'll see him enjoying the perks of the James River Park Trails, paddling RVA's rapids, biking around town, and supporting his beloved UVA Wahoos. He's on the Board of Directors at SwimRVA and Richmond Region Tourism, and serves on the Executives Roundtable at Chamber RVA.
Email: [email protected]
Favorite Richmond Restaurant:  Spoonbread
Pets: A Golden Retriever named Sally
Celebrity you'd like to be friends with: Steven Colbert
Favorite Sports Backers Event: Dominion Energy Riverrock, because it builds our belief in being an awesome active, outdoor river town.