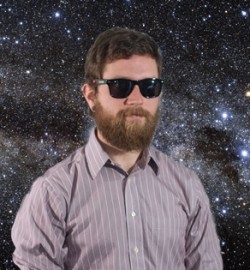 Bikes are his life. Whether he's commuting, touring, taking a utility trip, racing, or working, Brantley's with his bike. Brantley's primary responsibility as the Bike Walk RVA Community Engagement Manager is to rally support for bike and ped projects throughout Richmond. He's always on the prowl for people that can serve as effective advocates for walking and biking infrastructure. Don't be shy, people! He'll give you the ammo you need to help advance a project or aid a campaign. Don't be surprised if you see Brantley around town hosting community meeting, attending hearings, or even going door to door in your neighborhood. Before joining the SB family, Brantley founded VCU RamBikes, VCU's (that's his alma mater!) overall bike resource program, so we already knew he was incredibly dialed in to the bike community.
Email: [email protected]
Thinks coffee should be black, and only black. Blacker, if possible.
Would do just about anything to travel into space or colonize another planet. For now, sci fi and NASA documentaries will have to do.
Grows and grooms hair seasonally. Beard in the winter, shaved legs in the summer.