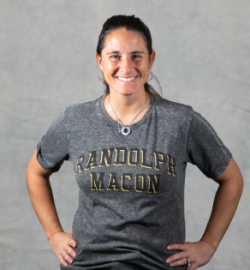 If you've been to one of our events, chances are you've seen Megan there. While she might describe herself as a "master meeting coordinator," we think master event coordinator is more appropriate. She helps combine our best ideas into really awesome events that inspire people to live actively and make our community more vibrant. Her happy place is any Saturday spent outside with her family whether it's running after her kids, Chase, Gavin and Ashlyn, a trip to the park, a family bike ride or a morning run…she's all in, especially if it ends in a trip to the fountain at Westwood Pharmacy. She's also heavily involved at her alma mater, Randolph-Macon College, where she was a standout basketball player and now serves in an advisory role on the board of the Yellow Jacket Club. You'll be sure to catch her in the stands supporting the Jackets in just about any sport! In her second life she'd love to be a singer, and you might catch her practicing if any song by Justin Timberlake comes on.
Email: [email protected]
Pets:  Golden Retriever named Randy
Favorite Sports Backers Event:  Dominion Energy Riverrock
Favorite Richmond Restaurant:  Lunch/Supper for yes, lunch or supper. And Westwood Pharmacy for breakfast.
Favorite place to be outside in Richmond:  "One of my favorite spots in RVA is on the Eastern Tip of Belle Isle.  In the middle of a great trail run I love to be able to pause there, occasionally take a selfie, and take in great views of the river and cityscape as a backdrop.  And more recently being able to show this spot to my kids during a trip to Belle Isle makes it all the more special."