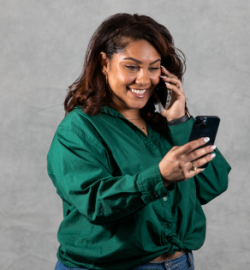 If you follow Sports Backers on TikTok, Instagram, or Facebook chances are you've seen Kamryn's work. As our Social Media Manager, it might look like Kamryn is playing on her phone, but she's constantly creating organic content to promote our events and programs. But it's not all TikTok dances, and trending reels, she has to research the best ways to engage with our community and followers. She got her A.S. in Business from Richard Bland College of William & Mary, and a B.S. in Marketing from Virginia State University. Kamryn played softball in college and is excited to join an adult softball league. When she's not on the field she likes to stay in shape by weight lifting, doing HIIT classes, Zumba, and taking outdoor walks with her parents' dog Bruno. On a Saturday you might find her eating a good brunch, and driving around and exploring RVA.
Email: [email protected]
What did you want to be when you "grew up":  Anything that involved being in front of a camera. I just knew I'd be on the next new Disney Channel show.
If you could have any super power what would it be:  I'd love to be able to speak every language, including ASL.
Celebrity you'd like to be best friends with:  In my head, I'm already besties with Kim Kardashian, Kehlani, and Keke Palmer.