About Fitness Warriors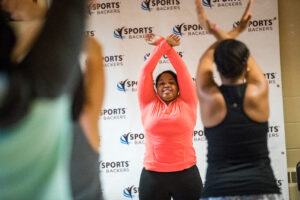 With support from the Richmond City Health District, the Sports Backers' Fitness Warriors program trains area residents who have talent, passion, and potential to be professional fitness instructors for Richmond's communities with the highest rates of chronic disease.  Fitness Warriors are selected for their skills and leadership, and we train them up to be certified group exercise teachers. Throughout the program, Warriors meet as a class 1-2 times/month on the weekends and get dedicated training and support from our Warrior Captains.
We teach the basics of fitness instruction and coaching.
Help to grow each Warrior's leadership skills.
Introduce multiple exercise class styles.
Create expertise in the fundamentals of teaching cardio, strength, and flexibility.
Along the way, Warriors are going out and working in communities with church groups and in schools, at senior residences and in community centers with ongoing supportive site visits from their Captains. By teaching these weekly classes around Richmond, Warriors get to hone their skills AND provide an important resource to Richmonders who are trying to stay healthy. Click here to view our most recent Annual Report and learn more about the impact that Fitness Warriors are making!
Join free classes with Fitness Warriors
Want to be a part of our next class of Fitness Warriors?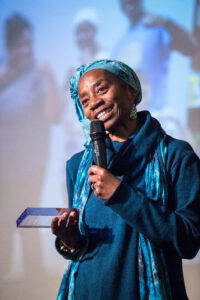 At Sports Backers, we work every day to improve the quality of life for all Richmonders through active living. While some of us may have gym memberships, or a park closer to our homes than others, all of us deserve opportunities to get healthy and stay in shape. And we could all use a little encouragement, a little coaching and support to get there.  Sports Backers' Fitness Warriors are that voice of encouragement and support for our communities that could use it most.
We're looking for dedicated people with lots of potential! It is a serious commitment of your time and focus and the application is competitive. Those accepted into the program, our Warrior Recruits, will receive 6 months on hands-on training from respected fitness and community organizing professionals and have the opportunity to provide free fitness classes for their community.  After successfully completing the program, Warriors who remain dedicated to serving their community are offered additional benefits, such as scholarships to pursue national group fitness instructor certification and first hand access to paid opportunities.
Apply to be a Host Site Partner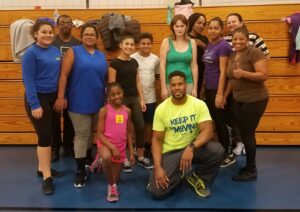 Every year we partner with schools, community centers, churches, senior centers, health clinics, and other community groups to offer FREE weekly fitness classes. Partners host Fitness Warriors, giving their communities a new outlet for health and wellbeing.