About Fitness Warriors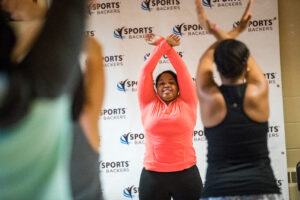 With support from the Richmond City Health District, the Sports Backers' Fitness Warriors program trains area residents who have talent, passion, and potential to be professional fitness instructors for Richmond's communities with the highest rates of chronic disease.  Fitness Warriors are selected for their skills and leadership, and we train them up to be certified group exercise teachers. Throughout the program, Warriors meet as a class 1-2 times/month on the weekends and get dedicated training and support from our Warrior Captains.
We teach the basics of fitness instruction and coaching.
Help to grow each Warrior's leadership skills.
Introduce multiple exercise class styles.
Create expertise in the fundamentals of teaching cardio, strength, and flexibility.

Along the way, Warriors are going out and working in communities with church groups and in schools, at senior residences and in community centers with ongoing supportive site visits from their Captains. By teaching these weekly classes around Richmond, Warriors get to hone their skills AND provide an important resource to Richmonders who are trying to stay healthy. Click here to view our most recent Annual Report and learn more about the impact that Fitness Warriors are making!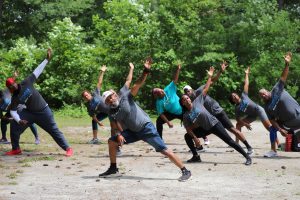 Join free classes with Fitness Warriors
Applications are currently closed. Click here to provide your contact information so you can be notified when applications open in 2023.