Kids Run RVA: Building Memories and Muscles Through Virtual Programming
By: Jacki Quinlan, Director of Community Outreach
---
In March, when schools and the rest of the world as we knew it shut down, kids all around the Richmond region found themselves stuck at home trying to continue their school curriculum from their laptops and tablets.  Sports teams came to an abrupt end, run clubs weren't able to meet, basketball nets were removed, and playgrounds were off limits with caution tape forming a barrier between kids and outdoor play. Many parents struggled to find a balance between working from home and meeting the needs of their children, while others had to find a safe place for their kids spend time so they could still make it into work. All the while, the physiological and social needs of kids remained the same. They still needed to move, to play, and to connect with other kids and caring adults.
Kids Run RVA Coaches quickly went to work making videos that kids could tune into for their daily workouts. We developed a playlist of exercise videos for kids and games for families to help keep kids moving that are featured on the Sports Backers' YouTube channel. Those videos have accumulated over 1600 views! Kids Run RVA was simultaneously collaborating with Dr. Stefanie Ramsey of Richmond Public Schools to create a series of "Get Outside" videos to highlight local parks and encourage youth to get moving safely outdoors. That series of videos was a hit as well, with the 10 videos attracting over 650 views.  We were excited to offer a way for students and families to stay active, but we also knew we needed to do more.
Next Up RVA, the local nonprofit organization that coordinates after-school programs for Richmond Public Schools, also hit the ground running when the pandemic hit. Within just a few weeks, they set up a platform for students to participate in virtual enrichment programs and reached out to Sports Backers to be one of the first organizations to pilot virtual programming. Our first "On the Run – Staying Active Outdoors" class was offered on April
1st, and since then we have led over 65 classes that have reached middle, elementary, and Pre-K students from Richmond Public Schools. There have been 93 unique students that have participated in the classes, many of them taking part on a regular basis. The average attendance in the middle school classes is 12 while the elementary class averages 13 students and the Pre-K class enjoyed an average attendance of 15 kids! The classes are all free for the students and Sports Backers receives funding to lead the classes, making it a win-win for everyone involved!
You may be thinking, how in the heck are you leading a class about running? By adapting and innovating! The Kids Run RVA program has certainly grown to be about much more than only running. And we've had to get very creative with how to make sure the classes are engaging, developmentally appropriate, and youth centered all while also making sure the primary goal of getting kids active remains front and center. Where we used to be able to incentivize kids with tangible rewards, we now must help develop students' internal motivation. We teach them why they should be active. They have learned each of the muscles of the body and exercises they can use to develop those muscles. We discuss their motivations for coming to class and living a physically active lifestyle. When asked what she likes about the On the Run class, Jalise, a 5th grade student at Patrick Henry School of Science and Arts, said, "I like it because I like to learn new workouts." Another student, Riley, shared a completely different motivation when she explained that, "I like to talk a lot and communicate a whole bunch, that's why I like coming."
We've learned that it's not all about the exercise and we take time to check in with the students before class starts. We find ways to incorporate social interaction into the fitness activities. The students help build out the playlist that we listen to in class by suggesting their favorite songs. We play games, we laugh, we share what's happening in our lives, and we check on each other. I like to think that it's the creative workouts and the physical progress they are seeing (because I sure have noticed their progress) that keeps them coming back, but I know it's so much more than that. It's the connection we are all finding through our time together. We work hard, we sweat lots, and we all agree that we feel better in the end for having done the workout. Don't take it from me though: ABC8 highlighted the program this spring and it was a great chance for regular class participants like Shiane to get a chance to share all the things they liked about participating.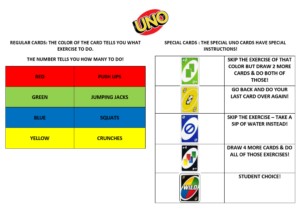 Shiane and others are developing a love of fitness. It's become a regular part of their lives. They've learned that fitness can be fun. We have played Muscle Bingo, Uno Fitness, Fitness Scavenger Hunts, Dice Fit, and other games that incorporate physical activity. They also are ready to put in the work when challenged to do a non-stop cardio routine, a HIIT class, an abdominal workout, and any of the other challenges that I've thrown their way. And, as the holidays and other special events come around, we celebrate those together too – with fitness of course! We've done Earth Day-themed workouts, a Cinco de Mayo routine, and a Red, White, and Blue workout for Independence Day. If it's raining outside, we do a burpee every time we hear the word thunder in the classic ACDC song "Thunderstruck" and we squat every time we hear the word rain in SWV's "Rain." I could go on and on but you get the point – staff are getting creative, kids are moving, and it's all being done from the safety of our homes.
We've built memories and muscles over the last four months together but it's not over yet. With Richmond Public Schools and many other local districts starting the school year virtually, so too will Kids Run RVA and Next Up RVA.  No one knows what the future may hold, but we know one thing for sure – Sports Backers remains committed to our mission of bringing physical activity to all corners of our community, even if it must be done virtually.  It's what we do – no matter what. While none of us knows what starting out a school year virtually will be like, we know much more now than we did a few months ago about how to engage kids and keep them physically active in a world that's gone virtual. As we head into the school year we promise to use what we've learned, keep the kids moving, facilitate connection through fitness, and have fun while doing it!
###