Kids Run RVA Brings Childhood Friends Back Together as Run Club Coaches
By: Pete Woody
---
As coaches for Sports Backers' Kids Run RVA youth running program, LaShawn Moore and Kisha Holloway get excited for the opportunity to greet their run club members at the finish line of races and share their excitement at completing a goal. But that excitement was nothing compared to the feeling the two experienced when they shared their own emotional greeting last fall at a Kids Run RVA coaches' meeting, since it was an unexpected and unplanned reunion nearly two decades in the making.
LaShawn and Kisha met in the ninth grade at Hampton High School in Hampton, Virginia, in the early 1990s and quickly became inseparable as best friends. After growing up together, they lost contact when work and family life took them to different cities around the country (LaShawn's lack of social media presence made it even more difficult to keep in touch). They both relocated to Richmond several years ago, but still, their paths never crossed, despite the fact that they shared the same family dentist. That changed when they walked into a Kids Run RVA coaches' meeting last fall, which led to a surprise connection that had both shedding tears of joy.
"It felt like a dream when I saw her walk into the coaches meeting," Kisha said of the moment they saw each other again. "I couldn't believe that it was really her."
"It was surreal, that's the only word I can use to describe it" added LaShawn. "Even though I've been a coach for Kids Run RVA for many years, I typically have not gone to that meeting because I'm a single parent and haven't had a sitter but this year I was determined to go. When I saw her…I just couldn't believe this was my best friend right there, in my arms."
A Passion for Running
Running has always been an important part of LaShawn and Kisha's relationship, as they were both members of the Hampton High track team. Now as Kids Run RVA coaches, they aim to share their passion for active living with the kids they coach as they prepare for the Ukrop's Monument Avenue 10k presented by Kroger and Virginia529 Kids Run on April 13. Kisha is also a member of Sports Backers' Fitness Warriors program, and for both coaches, helping kids with setting and achieving goals and instilling a lifelong love of running are their main targets.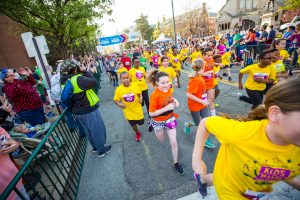 "In my first year, I found that the children really get a sense of pride out of participating," said LaShawn, who teaches and coaches at E.D. Redd Elementary School in Richmond. "As much as I can, I'm going to provide that for them. That's why I do it."
"I found that the kids I work with had never really run before, outside of just normal playing," added Kisha, who works with students who attend homeschool, a new aspect of the Kids Run RVA program. "They're so excited, their self-esteem is up, and the parents love it. We're really having a good time."
Excitement Building for Race Day
Though run clubs are still early in the training process for the 10k, both coaches say the excitement of race day is something all the kids are looking forward to. "I always run the 10k myself, so I'm used to the energy from the people" on the course, Kisha said. "I can't wait for the kids to feel it…and get across that finish line." "It's so exciting for them," added LaShawn. "You'd be amazed to see what you can do with that energy."
With a boost from their unexpected reunion, LaShawn and Kisha are thankful that Kids Run RVA has brought them back together and reconnected their families, and as they approach race day on April 13, they'll use that as inspiration. "I feel like it was fate…it was the perfect moment," Kisha said, with LaShawn adding, "I feel so blessed that it happened."
###
The Ukrop's Monument Avenue 10k presented by Kroger and Virginia529 Kids Run take place on Saturday, April 13, 2019. For more information and registration, visit www.sportsbackers.org.