Applications due February 24 for the Bike Walk RVA Academy: Hanover
We are now accepting applications for the Bike Walk RVA Academy: Hanover! The Bike Walk RVA Academy is our program designed to develop Richmond region residents into grassroots leaders in their communities for better biking and walking infrastructure such as paved trails, sidewalks, crosswalks, and safe neighborhood streets. If you live in Hanover County or the Town of Ashland and want to see more comfortable and connected places to bike and walk in your neighborhood, then this is the program for you!
Apply now, and lead the movement toward a walkable, bikeable Hanover County >>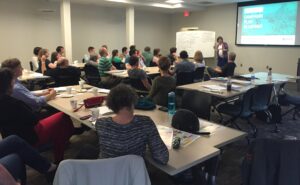 Over the course of the eight-week Academy, you'll be empowered with the tools, knowledge, and confidence to effectively advocate for new and high-impact bicycle and pedestrian infrastructure projects in your neighborhood—projects that allow everyone, regardless of age or ability, to get where they need to go on foot or by bike. Upon completion of the program, you will earn the title of "Champion"and join a close-knit community of advocates who share the vision of a comfortable, connected Hanover County. And you'll have a lot of fun, too! Here's a sneak peek of what we'll cover:
March 16 – The biking and walking narrative
March 23 – Bicycle and pedestrian infrastructure
Break for Ukrop's Monument Avenue 10k
April 6– Setting our goals for a walkable, bikeable Hanover County
April 13 – Organizing and leadership
April 20 – Building relationships
April 27 – Campaign tactics
May 4 – Communications and media
May 11 – Teamwork and mobilization
TBD – Graduation!
*All workshops will take place on Thursday evenings at the Patrick Henry YMCA from 6:30 to 8:30 PM.
Though the program is free, acceptance into the Bike Walk RVA Academy is competitive. Applications are due on February 24.
Submit your application now >>  
People of all ages, abilities, and backgrounds are encouraged to apply. Please email Shihan Wijeyeratne ([email protected]) with any questions or concerns.