Bike Walk RVA Academy
Lead the biking and walking movement in RVA!
The Bike Walk RVA Academy is our program designed to develop Richmond region residents into grassroots leaders in their communities for better walking and biking infrastructure such as paved trails, protected bike lanes, and sidewalks that allows people of all ages and abilities to get where they need to go on foot or by bike.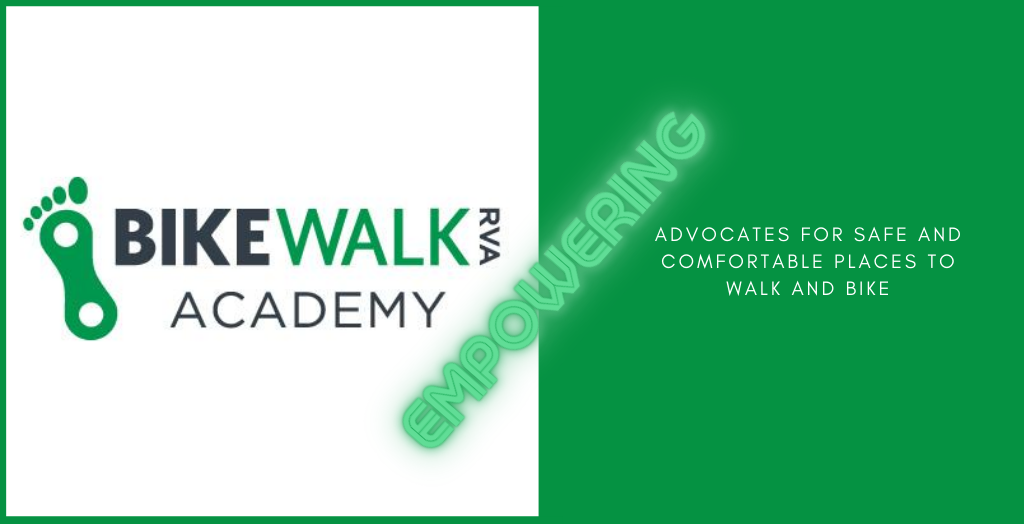 Over the course of the program, you will gain the tools, knowledge, and confidence to effectively advocate for infrastructure improvements that will make the Richmond region a better place to bike, walk, and live for everyone.
By the end of the program, you will earn the title of 'Champion', be ready to organize residents of your community around local projects, and have a working understanding of campaign planning and execution. We are committed to providing you with the know-how and support to:
Identify walking and biking infrastructure needs in your community
Communicate your story and position
Gather like-minded individuals and build a team
Navigate county government and identify decision-makers
Set SMART* goals and develop a plan to achieve them
Execute your campaign and…
Celebrate a victory
(*specific, measurable, attainable, reasonable, and timely)
If you share the vision of a Richmond region connected by a network of paved multi-use trails, protected bike lanes, safe neighborhood streets, and sidewalks, then the Bike Walk RVA Academy is for you!
There is no entry fee into the Bike Walk RVA Academy, but acceptance is competitive. Applications are accepted during specific periods each year. The Spring 2023 application period has closed.
Trying to figure out if the Bike Walk RVA Academy is right for you? Don't just take our word for it, hear from some of our Champions!
"I had always stayed away from local politics, because I didn't really believe in the power of regular citizens to influence elected officials. It's inspiring to see that a group of reasonably intelligent, reasonably articulate, but otherwise normal people have the ability to impact local government by coming together and making their voices heard."   Mike Snodgress, Bike Walk RVA Champion Fall 2015
"In addition to getting top notch training in all the basics of being a community advocate, the academy was an excellent way for me to meet others in my community who are interested in taking action for safe and comfortable places to walk and bike. I am excited to work with my fellow Champions and neighbors on projects that we initiate and work on together!"
Camilla Simon, Bike Walk RVA Champion Spring 2016