Sports Backers, Allianz Partners announce new partnership for Allianz Partners Richmond Marathon
Title sponsorship begins with 2022 event, the 45th running of the marathon
---
RICHMOND, VA – Sports Backers announced today a new partnership with Allianz Partners, making the consumer specialty insurance provider the new title sponsor of the Allianz Partners Richmond Marathon. The 2022 event is set for Saturday, November 12, in downtown Richmond, and also features the CarMax Richmond Half Marathon and Richmond 8k. Registration is currently open for all three race distances at www.RichmondMarathon.org, with a price increase set for April 15.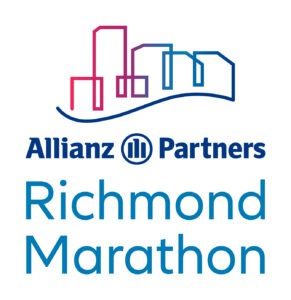 Sports Backers and Allianz Partners celebrated the kickoff of the new partnership with an event logo unveiling at the marathon finish line on 5th Street and Tredegar Street that featured representatives of both organizations as well as members of the Richmond running community.
The Richmond Marathon title sponsorship is a continuation of the relationship between Sports Backers and Allianz Partners that has seen Allianz Partners serve as a sponsor for various other Sports Backers events, including the Ukrop's Monument Avenue 10k, Anthem Corporate Run, and Allianz Partners 8k. With a large corporate and community presence in Richmond, Allianz Partners believes in staying active throughout the region in a variety of ways and providing engagement, volunteer, and active living opportunities for their associates and their families. Their sponsorship of the Allianz Partners Richmond Marathon will help support those efforts.
"We're thrilled to sponsor the Allianz Partners Richmond Marathon to help bring this terrific event to the people of Richmond," said Jeff Wright, CEO of Allianz Partners USA. "We believe in promoting an active, healthy lifestyle among our associates and we appreciate the opportunity to partner with Sports Backers to celebrate active living and create a wonderful weekend of fun and fitness."
2022 will mark the 45th running of the Allianz Partners Richmond Marathon. It is consistently recognized as a premier race experience, earning accolades such as 'Top 15 Fall Race in the U.S.,' 'Top 20 Marathon in the U.S.,' and a 'Best Bet for a Boston Marathon Qualifier.' The marathon and associated events also helped Richmond earn the distinction of being one of the 'Top Racing Cities in the U.S.' The Allianz Partners Richmond Marathon draws participants to run Richmond and experience a fast course, scenic neighborhoods, and first-class organization from registration through race day that has helped earn the title of 'America's Friendliest Marathon.'
"At Sports Backers, our mission is to inspire active living on a daily basis and create active living opportunities for residents and visitors alike," said Jon Lugbill, Executive Director of Sports Backers. "The Richmond Marathon is a great celebration of our mission and the race festivities show off the best that our region has to offer. We are excited to work together with Allianz Partners to build active, vibrant communities and help race participants achieve their goals."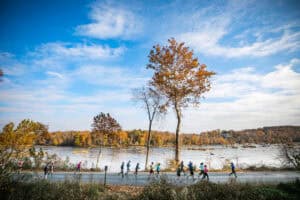 For the past three years, the event was known as the VCU Health Richmond Marathon, and the successful partnership with VCU Health came to an end after the 2021 race on November 13. "We believe in the power of physical fitness in preserving and restoring health for all, which is why we have supported Sports Backers for many years," said Marcos Irigaray, Chief of Communications and Marketing at VCU Health. "While VCU Health will not be the title sponsor of the 2022 marathon, we look forward to cheering on this year's marathon runners and celebrate their commitment to health and wellness."
Kids Run RVA to Serve as Official Event Charity Partner
Kids Run RVA is the official charity partner of the Allianz Partners Richmond Marathon. The youth fitness program is an initiative of Sports Backers that motivates thousands of young people across the region to run and be active on a regular basis. Sports Backers is committed to improving the health of children in the Richmond region by encouraging routine physical activity, which is critical to their long-term growth and wellbeing.
As an official charity partner of the Allianz Partners Richmond Marathon, donations to Kids Run RVA help provide free training opportunities for youth of all ages, abilities, and backgrounds, as well as funding to support school-based run clubs and events. For schools with fewer resources, Kids Run RVA grants can additionally cover transportation and entry fees to Sports Backers events, including the Marathon Jr. youth running event held each fall, several weeks before the Richmond Marathon. These events serve as celebrations of the students' discipline, hard work, and achievements.
Registration for the 2022 marathon, half marathon, and 8k is open, and more information on the event can be found at www.RichmondMarathon.org.
###
About Allianz Partners
Allianz Partners is a leading consumer specialty insurance and assistance company with operation centers in 35 countries. In the United States, Allianz Partners USA (AGA Service Company) offers Allianz Travel-branded travel protection plans and serves millions of customers each year. In addition to travel protection, the company offers event ticket protection, registration protection for endurance events and unique travel assistance services such as international medical assistance and concierge services. The company also serves as an outsource provider for in-bound call center services and claims administration for property and casualty insurers and credit card companies. AGA Service Company is doing business as Allianz Global Assistance Insurance Agency in California (License # 0B01400) and Massachusetts.
 About Sports Backers
With a key message of Let's Go, RVA, the mission of Sports Backers is to inspire people from all corners of our community to live actively. A non-profit organization, Sports Backers is dedicated to producing nationally recognized quality sporting events and programs that motivate residents and visitors alike to be more active, supporting youth running and fitness programs, and advocating for safe and connected networks of bike and pedestrian infrastructure. Learn more at www.sportsbackers.org.