Run Richmond for a Safe, 'Tailor-Made Marathon' Experience in 2020
By: Jon Lugbill, Sports Backers Executive Director
---
Yes, you can run a marathon and be safe from COVID-19 this fall. In order to take part in a safe marathon during a pandemic, runners basically need to have their own certified course, water bottle refill stations, mile markers, and chip timing. Your support team needs to be wearing masks and maintaining a safe social distance. And, it needs to be safe and easy to get your race number and finisher items. Basically, you need your own personal concierge for a 'Tailor-Made Marathon,' and that's what we'll be providing in Richmond in 2020.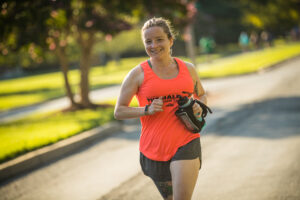 Here at Sports Backers our team is full of runners. We understand that preparing to run the Richmond Marathon is a major commitment. We developed our unique marathon format because we started out by determining what we would need ourselves to run in a marathon safely during a pandemic while making sure to meet all of the relevant local, state, and national health regulations. We developed a certified course that will be open from 5 a.m. until 5:30 p.m. from November 7-November 22 on the Virginia Capital Trail to keep us safe, spread out, and socially distanced.  
We knew that picking up our race number right where we park would limit exposure to other runners. The volunteers would all be wearing masks. To get our race underway, we'd just line up under the start banner, activate our free RaceJoy app on our smart phone, and start running. We would have a USA Track & Field-certified course with accurately measured mile markers and directional arrows along the course. Our masked volunteer support team will manage bottle refill stations to keep them safe and organized, while constantly patrolling the course. The RaceJoy app would play pre-recorded and scheduled messages from our friends and family along the course.  
When we cross the finish line with our arms raised in excitement, our masked volunteers will be there to direct us to pick up our finisher bag with all of our race swag. Thanks to RunSignup, our results will be chip timed and verified by the RaceJoy app. And yes, if we qualify for the Boston Marathon, our times will be official. Thus, the 'Tailor-Made Marathon' has become a reality here in Richmond. 
And, because the number of runners is limited and the opportunities to start are spread out over 16 days, you can expect some other runners so you are not lonely, but not enough that you are worried about contracting COVID-19. In fact, if you would like more runners on the course then run on one of three weekends, if you want less then come on a weekday.   
The out-and-back course covers a particularly shaded portion of the 10 foot–wide paved multi-purpose Virginia Capital Trail that is free of motor vehicle traffic. The route does include a few road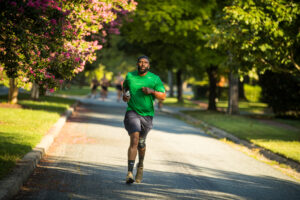 crossings, but passive traffic control measures will help improve runner safety. Bottle refill stations will be located every 2-4 miles along the course with high-capacity touchless spouts that can refill your hydration device quickly and safely—that's right, a cupless race. Portable restrooms will be provided along the course and will be cleaned regularly. We will have masked volunteers manning the bottle refill stations and the packet pickup location in Dorey Park near the start and finish for each day of the event from 5 a.m. until 5:30 p.m. Once you finish you will be directed to pick up for your packet of finisher items.   
If the day you plan on running your race is too hot, windy or rainy, just delay! Steve Taylor, men's cross country and track & field coach at the University of Richmond and co-founder of the Collegiate Running Association, competed on the U.S. National Team in the marathon for years and when he heard about the news, he was genuinely thrilled about the opportunity. "I remember back at the Toronto Marathon in 1994 when I woke up to 48 degrees and rain coming down sideways. Heavy wind and standing water on the streets," Taylor recalled. "I was really fit going into that race, but the conditions were so bad that my time suffered. The next day was beautiful, I wish they could have delayed that race a day."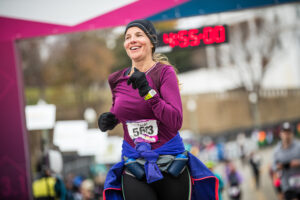 Taylor added this advice on the flexibility of a race date: "I've coached athletes that were trying to qualify for the Olympic Trials, and we've moved the goal race back a week if the weather was going to be bad. There is a mental challenge to refocus on the new date. But, if the weather is going to be bad, push your race back a day or two rather than go earlier. Delaying is always easier than moving the race date up." 
I've been part of organizing the Richmond Marathon for the past 22 years. I've never been able to run our race because I've always been too busy working to take part. Thanks to the development of the 'Tailor-Made Marathon' I will finally be able to run the Richmond Marathon. In fact, I plan on running the Richmond Challenge by taking on the Richmond Half Marathon and the Allianz Partners 8k in addition to the Richmond Marathon. I figure that I have 16 days to do all three. I hope you will be able to come and experience this unique running format with us. This much is for sure: letting us serve as your personal concierge will be a memorable experience, and the 'Tailor-Made Marathon' we have for you in Richmond is the best way to celebrate your running accomplishments in 2020. 
###
About Sports Backers
With a key message of Let's Go, RVA, the mission of Sports Backers is to inspire people from all corners of our community to live actively. A nonprofit organization, Sports Backers is dedicated to producing nationally recognized quality sporting events and programs that motivate residents and visitors alike to be more active, supporting youth running and fitness programs, and advocating for safe and connected networks of bike and pedestrian infrastructure. Learn more at www.sportsbackers.org.