Richmond Marathon Announces New Timing Solution to Provide Official Results for 2020 Event
RICHMOND, VA – The 2020 Richmond Marathon, which had previously announced plans to offer a socially distanced in-person event from November 7-November 22, is now partnering with RunSignup to give participants a groundbreaking timing solution that will provide official results on a USA Track & Field (USATF) certified course. This means that the 2020 event will be one of the few known marathons, and one of the largest, to provide official results and the opportunity for participants to qualify for the Boston Marathon, since the COVID-19 pandemic began in mid-March.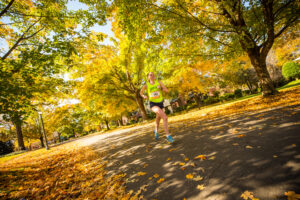 In order to receive an official chip time for the Richmond Marathon, Half Marathon, or Allianz Partners 8k, participants must run on the official course starting at Dorey Park. The course is open each day from November 7-November 22 from 5 a.m. to 5:30 p.m. Utilizing a timing chip on their race bib, participants will cross a timing mat at the start/finish line and must use the RaceJoy App during their run to validate chip times. The app will enhance the participant experience by providing GPS location tracking and creating real-time information and interaction with spectators. Friends and family of participants will be able to track progress remotely and can even send cheers along each runner's journey to the finish line.
"Our team understands how important the race-day experience is for runners. Countless hours go into getting ready for a marathon, half marathon, and 8k. From the time we realized we wouldn't be able to host the Richmond Marathon in its typical fashion, our team has been focused on providing the best race-day experience possible," said Megan Schultz, Chief Operating Officer for Sports Backers and race director for the Richmond Marathon. "We are so excited to offer an in-person option, and feel honored that we're able to do so, but we didn't stop there. We are thrilled to now provide an officially-timed event and hope it makes that race day feeling a little more real."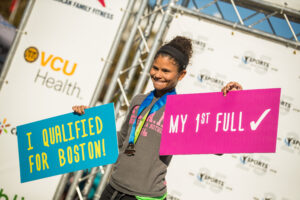 "For all of us runners who have been missing the opportunity to participate in a timed event, and especially those who were hoping to attempt to qualify for the Boston Marathon in a race this fall, the Richmond Marathon has answered the bell and devised a solution that not only works in our current COVID-19 world, but might be a new trend in race timing," said Bart Yasso, the retired Chief Running Officer of Runner's World magazine, who is also known nationally as the 'Mayor of Running.'
The official, certified courses for the marathon, half marathon, and 8k will include a shared start and finish line in Dorey Park in Henrico County, just east of downtown Richmond, before continuing along the Virginia Capital Trail, a paved, 10-to-12-foot wide dedicated multi-use path providing participants a scenic and protected route. The courses will feature mile markers, bottle refill stations, and restroom facilities. Each of the three distances will have a registration capacity of 3,000 participants, and the exact routes can be found here: https://www.richmondmarathon.org/race-weekend/course-information/.
During the 2020 event, GoRaceProductions will provide official results over 16 days using a combination of RaceDay Scoring (RunSignup's next-generation timing software) and the GPS runner-tracking app RaceJoy, with the chip timing data merged with the RaceJoy tracking data to validate finishers and provide split times for participants.
"RunSignup is excited to provide technology to help the Richmond Marathon modify their event and support thousands of runners in a safe manner," said Eric Cone, RunSignup's Vice President of Strategic Business. "The Richmond Marathon will be one of the first events to fully leverage a hybrid timing model that relies on both chip timing data and GPS data, and we are excited to see our technology used in this groundbreaking event."
Registration for all three race distances is currently open, with a rate of $85 for the Richmond Marathon, $75 for the Richmond Half Marathon, and $30 for the Allianz Partners 8k. Though the event will look different in 2020, Sports Backers aims to show their appreciation to participants for their continued support during this difficult time by providing the best experience possible and offering added incentives to those who take part. Everyone who participates in any way in November, either on the course option from Nov. 7-Nov. 22 or virtually throughout the entire month, will also receive a $10 credit towards the 2021 Richmond Marathon.
For more information on the course format, event schedule, and registration options, please visit www.richmondmarathon.org.
###
About Sports Backers
With a key message of Let's Go, RVA, the mission of Sports Backers is to inspire people from all corners of our community to live actively. A non-profit organization, Sports Backers is dedicated to producing nationally recognized quality sporting events and programs that motivate residents and visitors alike to be more active, supporting youth running and fitness programs, and advocating for safe and connected networks of bike and pedestrian infrastructure. Learn more at www.sportsbackers.org.
About RunSignup | GiveSignup
GiveSignup | RunSignup is the leading all-in-one platform for fundraising and endurance events. More than 21,000 events, supporting over 8,000 nonprofits, use GiveSignup/RunSignup's free and integrated solution to save time, grow their events, and raise more. Built on a powerful CRM, our expertly crafted, open, and all-in-one solution powers nonprofit revenue generation and supporter engagement from run/walk/rides to ticket events to donation websites, forms, and fundraising campaigns. For more information, visit www.givesignup.org or www.runsignup.com.