Fitness Warriors Program Accepting Applications for Next Class of Recruits
Application deadline set for October 31
---
RICHMOND, VA – Sports Backers is currently accepting applications for the next class of the Fitness Warriors program, which trains members of the community with talent, passion, and potential to be professional fitness instructors in neighborhoods with the highest rates of chronic disease. Those accepted into the program will begin training in January of 2023 and will begin leading free classes for the community by March 2023. Applications are due by October 31, and can be found at the following link: https://www.tfaforms.com/4728001.
Fitness Warrior program leaders will hold three upcoming information sessions for anyone interested in learning more about the program on the following days:
Monday, October 3, 6 p.m.-7:30 p.m., (held virtually, following a Fitness Warriors online class)
Tuesday, October 11, 11 a.m.-12:30 p.m., Southside Community Center (6255 Old Warwick Rd, Richmond, VA 23224)
Thursday, October 20, 6 p.m.-7:30 p.m., Ettrick Recreation Center (20621 Woodpecker Road, South Chesterfield, VA 23803)
To register to attend the sessions, visit the following link: http://bit.ly/FitnessWarriorsReg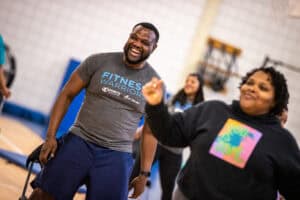 Fitness Warriors, now in its eighth year, is a program of Sports Backers that makes a deliberate effort to break down barriers to physical activity, particularly in underserved communities, and provide increased access to fitness opportunities to residents of all corners of the Richmond region. Fitness Warriors are selected for their skills and leadership and receive free training to be group exercise instructors. Throughout the program, Warrior Recruits receive dedicated training and support, as well as the guidance and mentorship of previous Warrior graduates.
Host Site Partners Offer Wide Range of Community Locations
The program partners with host sites to offer the free classes, utilizing churches, community centers, and libraries, and, throughout the COVID-19 pandemic, Warriors have added classes via Zoom and in outdoor settings in local parks. The classes allow emerging fitness professionals to hone their skills while providing an essential resource to residents in the communities they serve. A full class schedule can be found at https://www.sportsbackers.org/program/fitness-warriors/fitness-warriors-covid-19-class-schedule/.
"Fitness Warriors are dedicated to being catalysts for positive change," said Tiffany Copeland, Director of Fitness Warriors for Sports Backers. "I would encourage anyone interested in creating healthier communities to apply to join the program and help us in our mission to inspire active living on a daily basis."
Program Continues to Grow, Adding New Members and Class Locations
Since its inception in 2014, the Fitness Warriors program has grown significantly in both size and geographic reach. The program has trained 151 community fitness leaders, known as Warriors, to lead free group exercise classes in the communities that need them the most. Warriors area currently offering in-person classes throughout central Virginia, including:
In addition to in-person sessions, online classes reach an even wider audience across the region.
Thanks to the classes offered by the program, over 8,500 individuals have started their fitness journey by attending a class led by a Fitness Warrior. Regardless of which training class they were a part of, each Warrior graduate is equipped with the skills to lead free fitness classes and help area residents get moving in a fun and welcoming environment.
Participant Data Shows Positive Impacts on Health and Activity Levels
According to data collected from July 2020-June 2021, 1,011 individuals, ranging in age from two to 89 years old, came to a Fitness Warrior class for the first time. 82 percent of first-time participants self-identified as overweight or obese. Many first-time participants became regulars, as evidenced by having a total number of 5,761 visits throughout the year. In follow-up surveys, class participants reported significant impacts in health and activity levels, including improvements in the following areas:
weight loss
reduced need for medications
reduced stress
improved mood
improved ability to function in daily activities
increased energy levels, flexibility, strength, and cardiovascular endurance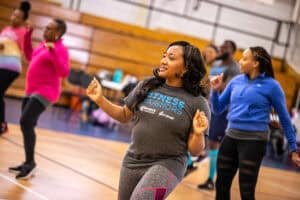 As part of their training, Fitness Warriors teach hundreds of hours of free fitness classes. In the process, they hone their skills and provide a vital resource for communities that otherwise lack ready access to daily fitness and physical activity opportunities. "As a graduate of the Fitness Warriors program, I have seen firsthand the incredible impact it has on individuals and communities," added Copeland. "The program helps transform the lives of Warrior class members, as well as the participants and communities they serve, and we look forward to our next class of fitness leaders."
The Fitness Warriors program depends on the support and expertise of partnering organizations, including Fit To Go, the American Council on Exercise (ACE), and the Richmond City Health District. More information on the Fitness Warriors program, as well as applications and schedules, can be found at https://www.sportsbackers.org/program/fitness-warriors/.
###