CarMax Tacky Light Run Returns to In-Person Format on Dec. 11; 'Christmas In July' Special Pricing Now Available
500 spots available at special price for first registration block
---
RICHMOND, VA – The CarMax Tacky Light Run will return to its traditional in-person format on Saturday, December 11, Sports Backers announced today. Chesterfield County's Walton Park neighborhood will once again host the event. A virtual option is also available for participants.
Celebrate 'Christmas in July' with Limited-Time Registration Offer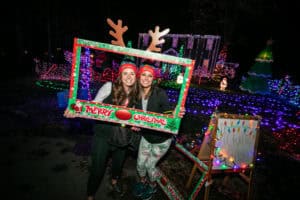 Registration is now open at www.sportsbackers.org, and the event is celebrating 'Christmas in July' with a limited number of entries currently available. The special pricing offers is $27 for adults and $12 for youth age 14 and under. The rate is only available to the first 500 registrants. Once the block is full, registration will close and reopen on October 5 at a higher price.
"The CarMax Tacky Light Run has become a Richmond tradition that draws participants and spectators from all over the region and beyond," said Leslie Parpart, Director of Community Relations for CarMax. "We're honored to be the lead sponsor for the 9th year in a row and look forward to sharing in the festivities with this year's participants."
Walton Park, Chesterfield County Offer Unique Tacky Light Displays
The holiday-themed fun run will take place Saturday, December 11th, at 6 p.m. The event combines tacky holiday lights, one of Richmond's favorite traditions, with a celebration of active living. The run will start and finish at Mid-lothian Mines Park, which will be transformed into a winter wonderland for the event. The course will take participants through the Walton Park neighborhood, one of the area's most festive collections of holiday lights and elaborate decorations. The course includes neighborhood cheer zones, seasonal music, and plenty of photo opportunities along the route.
"The CarMax Tacky Light Run provides a unique opportunity to walk and run through Walton Park for an up-close view of some amazing holiday decorations, and we're excited to return to the traditional in-person event format to bring that experience to participants in December," said Meghan Keogh, Director of Events for Sports Backers. "We're grateful for the continued support of all the participants who took part in 2020 and partners like CarMax, Wegmans, and Chesterfield County, and we can't wait for December 11."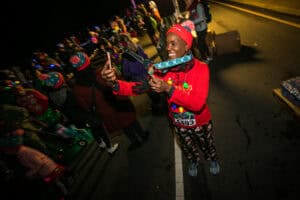 Event registration includes the following items for participants:
race entry and access to a a pre and post-event holiday party
the choice of a participant shirt or beanie
a special ornament finisher medal
Participants are also encouraged to show their creativity with their own holiday costumes and tacky lights.
Kids Run RVA to Serve as Official Event Charity Partner
Kids Run RVA will serve as the official event charity for the CarMax Tacky Light Run. The youth physical activity initiative is a program of Sports Backers that reaches thousands of young people across the Richmond region. It organizes running and fitness clubs in schools and neighborhoods, including many underserved communities.
Kids Run RVA gives youth the chance to have fun while being physically active in their own communities. Thousands of kids take part in Kids Run RVA programming in the Richmond area on a daily basis. The program aims to establish healthy habits early in life that are critical to the long-term physical, emotional, and social development of all children. Kids Run RVA works to provide all kids the chance to participate in daily physical activity.
For more information on the CarMax Tacky Light Run, please visit www.sportsbackers.org.
###
About CarMax
CarMax, the nation's largest retailer of used autos, revolutionized the automotive retail industry by driving integrity, honesty and transparency in every interaction. The company offers a truly personalized experience with the option for customers to do as much, or as little, online and in-store as they want. CarMax also provides a variety of vehicle delivery methods, including home delivery, contactless curbside pickup and appointments in its stores. During the fiscal year ending February 28, 2021, CarMax sold more than 750,000 used vehicles and more than 425,000 wholesale vehicles at its in-store and virtual auctions. In addition, CarMax Auto Finance originated more than $6 billion in receivables during fiscal year 2021, adding to its near $14 billion portfolio. CarMax has more than 220 stores, approximately 27,000 Associates, and is proud to have been recognized for 17 consecutive years as one of the Fortune 100 Best Companies to Work For®. For more information, visit www.carmax.com.
About Sports Backers
With a key message of 'Let's Go RVA,' the mission of Sports Backers is to inspire people from all corners of our community to live actively. A non-profit organization, Sports Backers is dedicated to producing nationally recognized quality sporting events and programs that motivate residents and visitors alike to be more active, supporting youth running and fitness programs, and advocating for safe and connected networks of bike and pedestrian infrastructure. Learn more at www.sportsbackers.org.