VCU Health Richmond Marathon to Return to Traditional In-Person Format in Downtown Richmond on Nov. 13
Race weekend also includes CarMax Richmond Half Marathon and Allianz Partners 8k

---
Richmond, VA – The VCU Health Richmond Marathon will take place in its traditional one-day, in-person format in downtown Richmond on November 13, Sports Backers, the event organizers, announced today. The event also features the CarMax Richmond Half Marathon and Allianz Partners 8k. Registration is currently open for all three events at www.RichmondMarathon.org, with a price increase set for July 1.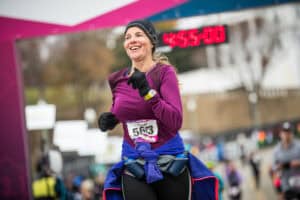 2021 will mark the 44th running of the VCU Health Richmond Marathon. It is consistently recognized as a premier race experience, earning accolades such as 'Top 15 Fall Race in the U.S.,' 'Top 20 Marathon in the U.S.,' and a 'Best Bet for a Boston Marathon Qualifier.' The VCU Health Richmond Marathon and associated events also helped Richmond earn the distinction of being one of the 'Top Racing Cities in the U.S.'
"We are excited to return to our traditional format for the VCU Health Richmond Marathon and join together to celebrate all the aspects of race weekend that participants look forward to when running Richmond," said Jon Lugbill, Executive Director of Sports Backers. "Events like this help make the Richmond region a vibrant place to live, work, and visit, and we can't wait to welcome everyone back to downtown Richmond in November."
Finish Line Features Sweeping Views of James River
The VCU Health Richmond Marathon draws participants to run Richmond and experience a fast course, scenic neighborhoods, and first-class organization from registration through race day. Sports Backers plans to return the race to downtown Richmond with the traditional finish line at the intersection of 5th Street and Tredegar Street that offers sweeping views of Brown's Island and the James River.
"Our unique COVID-19 format allowed for a tailor-made marathon experience for runners last November, providing them with a measured, marked course over multiple days and the opportunity to cross a finish line when many other race options weren't available," said Megan Schultz, Race Director for the VCU Health Richmond Marathon. "This format became a model for events around the country after we introduced it. We're proud that our innovation paid off to help our community live actively even during a pandemic and we are really looking forward to providing an outstanding in-person experience in Richmond on November 13."
Sports Backers' Marathon Training Team Returns to Group Training Sessions on June 12 & June 13
Sports Backers' Marathon Training Team kicked off its 20th season on June 5 and the first in-person group training runs take place this Saturday, June 12, and Sunday, June 13, with groups meeting at Sports Backers Stadium.
The Sports Backers' Marathon Training Team is a proven 23-week program that has successfully trained over 17,000 people for the VCU Health Richmond Marathon since the team's inception in 2002. Roughly 30 percent of team participants will be training for their first marathon. The program is led by experienced coaches who are eager to provide motivation and guidance in a supportive setting to help participants achieve their goal of completing 26.2 miles.
The Marathon Training Team registration fee of $180 includes a free entry in the VCU Health Richmond Marathon, along with a Marathon Training Team shirt, a technical race shirt, an electronic guide book with a detailed schedule to follow, clinics, organized weekly runs with knowledgeable and supportive coaches, and special race-day support along the course from coaches. Income-based rates are available for all Sports Backers training teams. These rates are offered to those who qualify and would otherwise not be able to participate.
Marathon Training Team registration is open through June 28. For more information and registration details, please visit www.richmondmarathon.org/training/marathon-training-team/.
###
About Sports Backers
With a key message of Let's Go, RVA, the mission of Sports Backers is to inspire people from all corners of our community to live actively. A non-profit organization, Sports Backers is dedicated to producing nationally recognized quality sporting events and programs that motivate residents and visitors alike to be more active, supporting youth running and fitness programs, and advocating for safe and connected networks of bike and pedestrian infrastructure. Learn more at sportsbackers.org.