VCU Health Richmond Marathon partners with Richmond Raceway to hold race expo in open-air format
Walmart Health & Fitness Expo takes place Nov. 11 and Nov. 12 at Raceway
---
Richmond, VA – The VCU Health Richmond Marathon is partnering with Richmond Raceway to host the pre-race expo in an open-air format, Sports Backers, the event organizers, announced today. The Walmart Health & Fitness Expo takes place Thursday, November 11, from 4 p.m. to 8 p.m. and Friday, November 12, from 11 a.m. to 8 p.m. It will be held in the infield area of the Richmond Raceway track.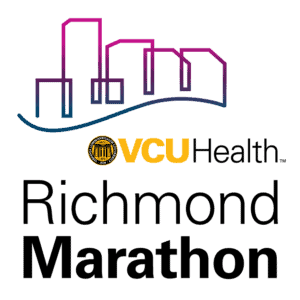 "We know that the race expo is a highly anticipated part of the race weekend experience and we're excited to partner with Richmond Raceway for this year's Walmart Health and Fitness Expo," said Megan Schultz, Race Director for the VCU Health Richmond Marathon. "Richmond Raceway provides a fantastic venue in a convenient location, and this innovative approach allows us to follow the most up-to-date health guidelines to promote the safety of participants, volunteers, and staff. We look forward to creating an enjoyable experience for participants in the VCU Health Richmond Marathon, CarMax Richmond Half Marathon, and Allianz Partners 8k."
Once expo attendees arrive inside the Raceway, they will enter the open-air expo space and see packet pick-up for their race bib and participant shirt, race vendors, and plenty of interactive features set up in the surrounding pavilions and open-air garages. Richmond Raceway provides the flexibility for a comfortable expo environment in all weather conditions. The Walmart Health & Fitness Expo provides a great chance to check out the latest running gear, meet with dedicated race sponsors, and talk with the people who know running best.
"Richmond Raceway is the home for NASCAR racing in the Capital City, so we're the perfect host for the pre-race expo for the VCU Health Richmond Marathon," said Dennis Bickmeier, President, Richmond Raceway. "After racing returns to America's Premier Short Track on Sept. 10-11, the track will be primed to welcome runners to explore our state-of-the-art infield, FanGrounds, for the Walmart Health & Fitness Expo on Nov. 11 and Nov. 12."
 Richmond Raceway is a regional leader for events including sports, live music and consumer trade shows. The Richmond Raceway Complex hosts more than 200 live events over 280 event days annually including concerts with top national recording artists at Virginia Credit Union LIVE!, the region's only covered amphitheater. To learn more about the 2021 Virginia Credit Union LIVE! concert season, visit vaculive.com. For more information on the Richmond Raceway Complex, visit richmondracewaycomplex.com.
Richmond Raceway will continue its 75th anniversary celebration with the Salute to American Heroes presented by Toyota on Sept. 10-11 featuring the Virginia is for Racing Lovers 150 NASCAR Whelen Modified Tour race on Friday, Sept. 10 and a day-night doubleheader with the Go Bowling 250 NASCAR Xfinity Series race featuring Dale Earnhardt Jr.'s return to competition and the Federated Auto Parts 400 Salute to First Responders, the second race of the NASCAR Cup Series Playoffs, on Saturday, Sept. 11. NASCAR tickets can be purchased via phone at 866-455-7223 or online at richmondraceway.com.
VCU Health Richmond Marathon Offers Premier Racing Experience
The VCU Health Richmond Marathon has long been recognized as "America's Friendliest Marathon" and providing runners with the chance to experience the Walmart Health & Fitness Expo at Richmond Raceway is one way Sports Backers aims to provide the best race possible. Runners wishing to take part in race weekend can sign up for any of the three events or by joining a Sports Backers training team. The Sports Backers Half Marathon Training Team began on August 7 and registration is open through September 5. Registration is currently open for the Sports Backers 8k Training Team, which kicks off on September 18.
2021 will mark the 44th running of the VCU Health Richmond Marathon. It is consistently recognized as a premier race experience, earning accolades such as 'Top 15 Fall Race in the U.S.,' 'Top 20 Marathon in the U.S.,' and a 'Best Bet for a Boston Marathon Qualifier.' The VCU Health Richmond Marathon and associated events also helped Richmond earn the distinction of being one of the 'Top Racing Cities in the U.S.'
The VCU Health Richmond Marathon draws participants to run Richmond and experience a fast course, scenic neighborhoods, and first-class organization from registration through race day. Sports Backers plans to return the race to downtown Richmond with the traditional finish line at the intersection of 5th Street and Tredegar Street that offers sweeping views of Brown's Island and the James River. More information on the event, race expo, and training teams can be found at www.RichmondMarathon.org.
###
About Sports Backers
With a key message of Let's Go, RVA, the mission of Sports Backers is to inspire people from all corners of our community to live actively. A non-profit organization, Sports Backers is dedicated to producing nationally recognized quality sporting events and programs that motivate residents and visitors alike to be more active, supporting youth running and fitness programs, and advocating for safe and connected networks of bike and pedestrian infrastructure. Learn more at sportsbackers.org.