Sports Backers Celebrates Groundbreaking of Henrico County Portion of the Fall Line Trail and Announces New Office Space
Sports Backers new office to be part of trailhead for the Fall Line trail
RICHMOND, VA – Henrico County held a ceremonial groundbreaking today in Lakeside to celebrate the start of construction along the 0.26-mile Park Street Phase of the 43-mile Fall Line trail. The trail is the result of Sports Backers' efforts to inspire safe and accessible walking and biking infrastructure for all throughout our region. $252 million has been allocated of the $300 million total needed from federal, state, local, and Central Virginia Transportation Authority funds. In 2024, 20-miles of the trail will be under-construction with all 43 miles expected to be completed by 2030.
The Fall Line will run through seven localities: Ashland, Hanover, Henrico, Richmond, Chesterfield, Colonial Heights, and Petersburg, passing through downtown
Richmond and across the James. It will connect to the Virginia Capital Trail and the Appomattox River Trail making it the spine of our region's trail network connecting rural, suburban, and urban landscapes. Sports Backers was the lead nonprofit advocacy group for the project.
"For the better part of two decades, our region has envisioned a trail for bicyclists, walkers and others that would traverse and showcase our historic trolley lines," Henrico County Board of Supervisors Chairman Frank J. Thornton said. "Today's groundbreaking begins an auspicious new chapter as the Fall Line trail will provide our community and region with seemingly limitless economic and quality-of-life-benefits."
In addition to commemorating the start of trail construction, Sports Backers announced that they would relocate their headquarters along the Fall Line trail to the former Bank of America building on Lakeside Avenue. Sports Backers and Henrico County have agreed to terms for a long-term lease and have developed plans to share responsibilities for activating the site. With the trail standing as a symbol of regional cooperation, Sports Backers' new office will straddle the line between Richmond and Henrico.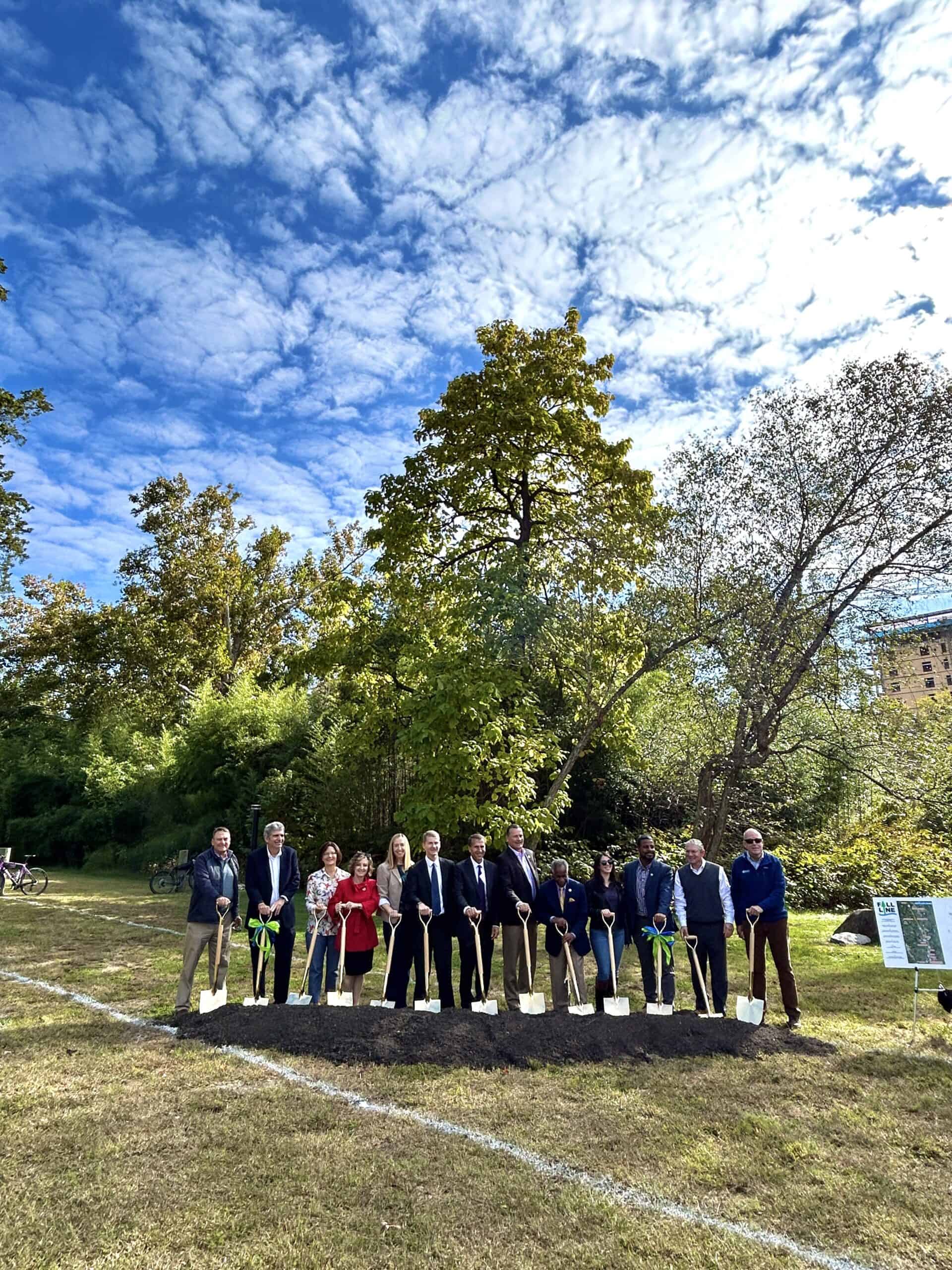 "We're excited to have such an amazing location to call home for the coming years," Sports Backers Board Chair Roy Grier said. "The Fall Line trail is going to be an incredible asset to our region and to have our office located right along the trailhead in Henrico really goes hand-in-hand with our mission. Not only does the building offer ample space, but we'll have a group fitness studio, meeting space, and connectivity to a project we've worked so hard to make happen. To see the Fall Line come to fruition is powerful."
Sports Backers also announced a $1 million capital campaign to renovate the former Bank of America building into an office that will be an asset not only to staff, but to the community. Although the campaign just recently kicked off, Sports Backers has already received several pledges.
"The feedback from the philanthropic community has been extremely positive about our new office space being located at a Fall Line trailhead," said Jon Lugbill Executive Director of Sports Backers. "Donors understand the connection between our efforts leading the charge for this transformational Fall Line trail and our programs that engage the community in active living. Our efforts promoting the use of the trail and active living in general will be amplified by Sports Backers headquarters being located at the epicenter of our active living movement."
The current building totals 5,905 square feet. Sports Backers plans for the building include an open concept workspace, private meeting areas, and a 500 square foot Fitness Classroom. Sports Backers anticipates construction for the building beginning in early 2024 and hopes to move into their new headquarters by the end of 2024.
###