Great American Ride Team Q&A: Hilliard City Schools
The Great American Ride is a 3,700-mile virtual team bike ride along the route of the Great American Rail-Trail™ , a signature project of Rails-to-Trails Conservancy, which serves as the event charity. The developing trail is more than 53% complete and will one day connect over thousands of miles and 12 states between Washington, D.C. and Washington State. The event combines the camaraderie of team cycling with the fun and sightseeing of a long-distance solo ride. The Great American Ride is a journey that you can experience from whatever corner of the world you call home, and it all kicks off on March 20. You can learn more, and get your team registered, at www.GreatAmericanRide.org.
A group of riders from Hilliard City Schools, near Columbus, Ohio, took part in the 2020 event and enjoyed it so much they're back again, this time with two teams, Hilliard City Schools – Blue and Hilliard City Schools – Black. We caught up with two of the team captains, Brenda Ribble and Audrey Stafford, to learn more about the teams and their plans for the 2021 Great American Ride. Read more below!
"Hilliard City Schools is in Hilliard, Ohio. We have three high schools in our District and their colors are various shades of blue, black and white," explained Brenda. "That's why we chose those colors in our team names."
Sports Backers: How did you hear about the event? Is this your first time taking part, or did you participate in 2020? 
Brenda Ribble: I believe I saw the original event on Facebook. I organized a Hilliard Schools Team in 2020. We had 8 members, I think, but we did manage to complete the route. Everyone was very excited to get our socks and medals!
Audrey Stafford: I heard about the event this year through our Hilliard Weekly Wellness news. I did not participate last year. Like Brenda, I am a wellness ambassador for our district at the elementary level.
SB: What made you want to organize a team?
BR: I am an avid cyclist and I am always looking for ways to bring more people to cycling for the fun of it! COVID-19 canceled most of the organized rides I was planning to participate in during 2020. So, this virtual cycling event was very interesting to me. I am a wellness ambassador for our school district and when I sent the information to our Wellness Coordinator, she was on board with us having a team. Hilliard City employees are eligible for two "race reimbursements" per year, up to $100 each and they allowed staff members to submit our entry into this virtual ride for reimbursement. I think that helped get some people on board.
AS: By the time I inquired about signing up the first team was full. I am still recruiting for the second team, but hopefully it will be full soon.
SB: Was there enough interest from your colleagues to organize two teams? 
BR: Last year, I couldn't fill a 12-person team, but I managed to recruit most of those riders again this year and we had additional people interested so our first team filled pretty quickly. When Audrey contacted me about wanting to participate, I suggested we start a second team and she agreed to be captain. I'm very excited to see people continuing to join that team. I'm sure the overall increase in cycling during the pandemic has increased our interest.
SB: Are all team members part of the Hilliard City Schools staff? 
AS: Our team members are part of the Hilliard family in some way or another. My husband is participating on Team Black and I might be recruiting other family members to join me.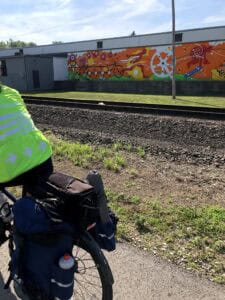 SB: Do you cycle, or take part in other forms of exercise, regularly? 
BR: Yes, I cycled 5,000 miles in 2020. Taking part in this event definitely helped me reach that goal! FYI, I'm NOT a runner! I'm excited when I see virtual events that are cycling related.
AS: My husband and I love to ride. I have taken to more indoor riding on my spin bike since having two children in the last four years. I also do other exercise on a regular basis. My husband loves his road bike and has ridden in a popular fundraiser ride called Pelotonia here in Columbus, which raises money for cancer research.
SB: Is there any kind of competition brewing between the Blue team and Black team? 
BR: We hope to have some friendly competitions and some rides together, but nothing is scheduled yet.
AS: I am sure some fun competitions will be brewing!
SB: The Great American Rail-Trail™ is the inspiration behind the route for the Great American Ride, and the Rails-to-Trails Conservancy is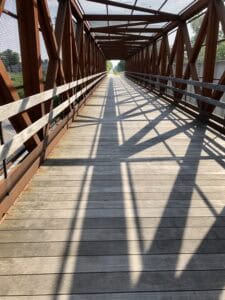 the event charity partner. There is a section of the Great American Rail-Trail that goes very close to the Columbus area. Do you have much experience riding on the trail, either for this event or just in general?
BR: Yes! It actually runs right through Columbus and I live not far from the trail and ride it frequently! I will definitely be riding that trail when working on my miles!
AS: We are very familiar to the trails here. We would love to see them expanded here in Hilliard, so we have more trails to ride on. The area is slowly adding more riding lanes and becoming more bike friendly.
Visit www.GreatAmericanRide.org to register your 4, 8, 0r 12-person team, and get ready for the ride of a lifetime in the Great American Ride!