Bike Walk RVA 2021 Fall Update: Bike Month, Trailblazers, and Counts
By: Brantley Tyndall, Bike Walk RVA Director of Outreach
---
Layering weather is here, so grab a cardigan and a coffee for our Fall 2021 update!
Changing Lanes – Bike Month Wrap
RVA Bike Month returned to in-person in 2021! It was rescheduled to October to allow folks ample time to get vaccinated, and the great weather and fall feeling were a fun and special backdrop to a month dedicated to the Fall Line and the new Change Lanes to Pass law. With almost 50 events and 3,000 participants over five weeks, it definitely felt like the real deal. Pour a little water out of your bike bottle for the dozens of volunteers who made the events so great.
Bike to Work Day was also rescheduled to October, and this year the event was supported by the James Center, Gather – Arts District, and Dominion Energy. It started with a bike commuting lunch seminar at the James Center featuring expert tips and an overview of their bike parking solutions. That was great preparation for riders to join Bike to Work Day 10 days later, the first to use a network almost exclusively of bike lanes from Northside to Gather's downtown location. This included Brookland Parkway, Brook Road, and 1st Street! Gather hosted riders for a discussion about bikeway development and a tour of their coworking spaces.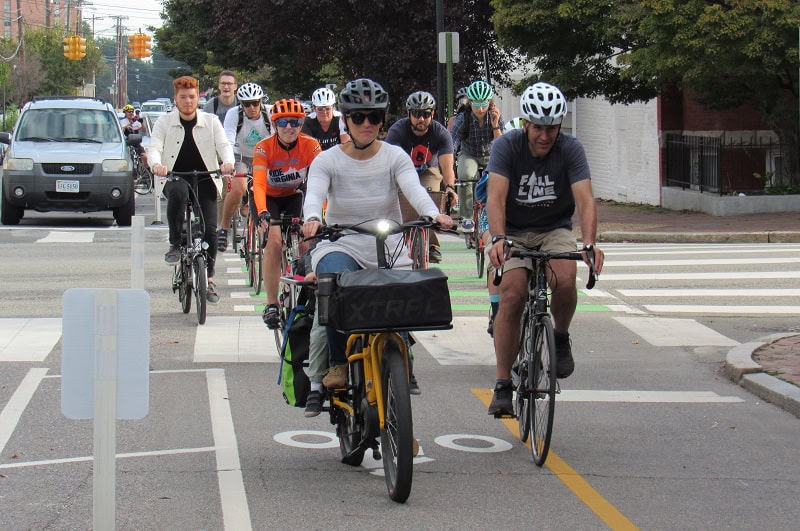 Fall Line Trailblazers
Bike Walk RVA launched a series of exploratory hikes along the proposed Fall Line between Petersburg and Ashland over two days, introducing over 170 residents in Central Virginia to the corridor's opportunity. Starting near the southern end, we touched all seven localities along the route, sampling sweet wooded trails, river overlooks, and urban and residential connections. Many thanks to all who joined in on the excitement, including county staff from Henrico county and Hanover County, elected leaders from Ashland, Henrico, and Richmond, and peer nonprofits like Better Housing Coalition, BridgePark Foundation, and Southside ReLeaf.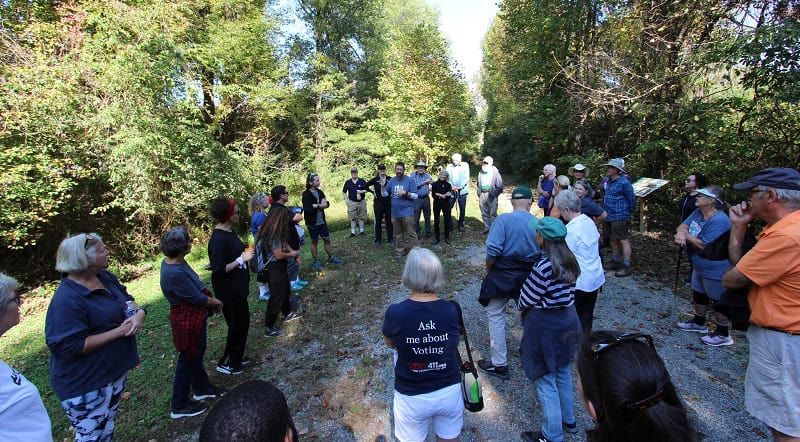 Bike Ped Counts
Thanks to dozens of volunteers over three days in September, Richmond City Health District and Bike Walk RVA completed our biannual bicyclist and pedestrian counts. View the full report here, and below are some takeaways. Love the new bike lane on 1st Street!
Bicycle activity remained highest along corridors with bicycle infrastructure, such as Floyd Ave.
1st Street saw the greatest percent increase in bicycle activity compared to the fall 2020 BPC. This is significant due to the recently completed infrastructure projects along this corridor.
In September 2020, Broad St (VCU) saw the highest pedestrian activity; this remained consistent during the spring 2021 counts but could not be verified for the fall 2021 counts as there was no data collected at this location.
Broad St (downtown) had the highest combined average counts for this fall's counts.
Upcoming dates
Thanks for being a part of a wonderful late event season, and stay tuned for more progress on bike and pedestrian infrastructure by signing up for our email list. You can also find more at Bike Walk RVA's social media: Facebook, Instagram, and Twitter.
Brantley Tyndall
Director of Outreach
Bike Walk RVA