An update on the Bike Walk RVA Academy!
The Bike Walk RVA Academy is a program of Sports Backers designed to develop biking and walking advocates into grassroots leaders of the biking and walking movement in their communities. Over the course of eight weeks, we teach the basics of local government, bicycle and pedestrian infrastructure, campaign planning, and more. We've had a blast running the Academy, and we can't wait to expand it to include new localities, and new people (we're pursuing a youth Academy in the fall – stay tuned!).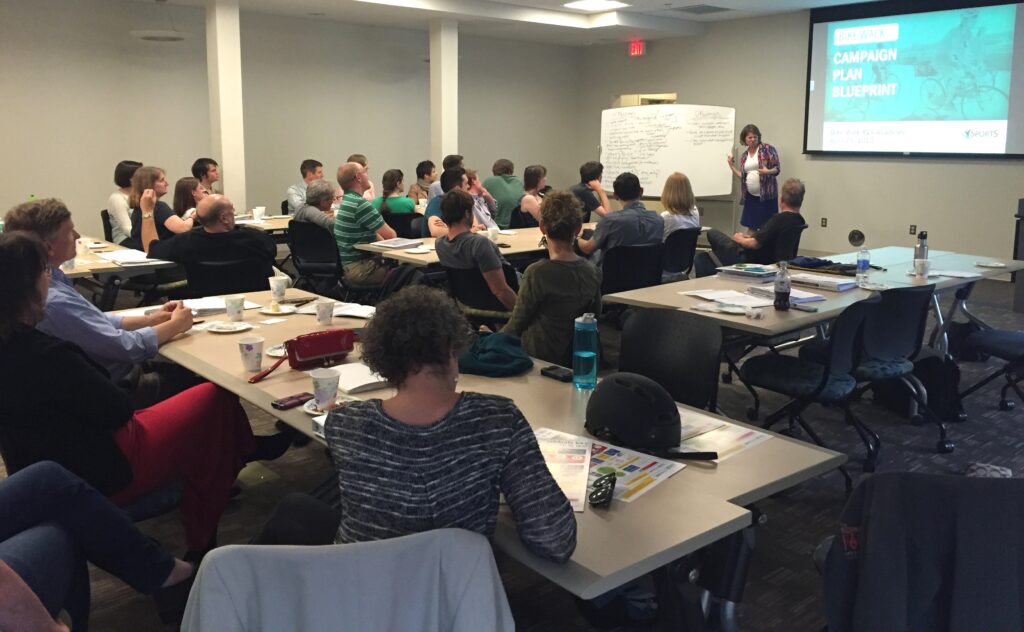 It's hard to put into words the impact that the Bike Walk RVA Academy has had since we launched the program in Fall 2014. Let's start with some numbers:
The Bike Walk RVA Academy has run in three localities: Chesterfield County, Henrico County, and the City of Richmond. Live somewhere outside those three? Don't worry! We have plans to expand to other surrounding jurisdictions in the near future.

We've now run the Bike Walk RVA Academy four times in the Richmond region, and each time we've been absolutely thrilled with the wonderful people who choose to participate.

Seventy people have graduated from the Bike Walk RVA Academy and earned the title of 'Champion'. A champion for safer walking and biking, and a region where everyone can get where they need to go regardless of age, ability, or mode of transportation.

Those seventy people have spent a combined 1,120 hours in the classroom, learning about their local government, community organizing, bicycle and pedestrian infrastructure, and so much more. This number is huge, and it doesn't even include the countless additional hours they've spent running meetings, presenting to neighborhood associations, testifying before City Council and the Board of Supervisors, and all the other great work they do post-Academy to make the Richmond region walkable and bikeable.
We are thankful beyond words for our amazing Champions, and hope that you'll become one too. Be a part of the Bike Walk RVA Academy, and be a leader in the movement that will make the Richmond region a better place to bike, walk, and live for everyone. Keep an eye out for our next application period!