Anthem Corporate Run Returns to In-Person Format on Sept. 23, with Virtual Options Also Available
Registration still available with price increase set for August 24
---
Richmond, VA – More than 100 companies from around the Richmond region are currently registered to take part in the 2021 Anthem Corporate Run on Thursday, September 23. Sports Backers is returning the event to its traditional in-person format at Innsbrook Office Park with the 5k race starting at 6:30 p.m. A virtual option is also available. Teams can register at www.sportsbackers.org, and a price increase is set for August 24.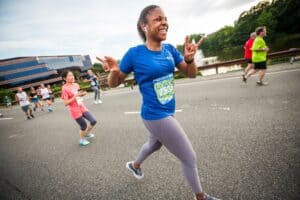 The Anthem Corporate Run is part 5k, part team building, and all fun!," said Kristen Eichert, Corporate Sales Manager for Sports Backers. "It provides a great opportunity for companies to get their teams together to boost morale, inspire change, and have fun, all while being active. It's perfect for runners, walkers, and anyone in between, and we're looking forward to returning the event to its in-person format on September 23."
Now in its 12th year, the Anthem Corporate Run has grown to become one of the premier corporate run/walk events in the state. Participating teams come from small, mid-size, and large companies across a variety of industries. Companies rally around the Anthem Corporate Run because it presents opportunities for team building and employee engagement, particularly as companies seek out new opportunities for in-person connections.
Event organizers also have health and safety protocols in place based on the most up-to-date guidelines and recommendations on COVID-19 from public health officials. A virtual event format is also available, and awards will be given out for the top individuals and teams in both the in-person and virtual events. At the Anthem Corporate Run, as in all Sports Backers events, the health and safety of participants, volunteers, and staff are top priorities.
What They're Saying: Anthem Corporate Run Participating Teams
"Hirschler is a proud supporter of Sports Backers. The Anthem Corporate Run is a great opportunity for us to connect with members of the business community in a casual setting. And our Hirschler Post-Race Party is the perfect way to celebrate a successful finish!" – Melissa Geissbuehler, Hirschler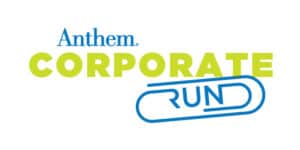 "Richmond has been home for CapTech for nearly 25 years. We look forward to the Anthem Corporate Run each year because it exemplifies everything that makes Richmond a great place to work: the people, the atmosphere, and activities for anyone and everyone. We're grateful to have the opportunity to sponsor the CapTech Final Mile again in 2021, and we look forward to the best happy hour all year!" – Catharine Cain, CapTech
"SUEZ has participated in the Anthem Corporate Run for many years now, and it's a tradition many on our team enjoy. It's a fun event for our employees and aligns well with our desire to encourage fitness and camaraderie. The virtual format has allowed us to expand participation outside of simply the Richmond office." – Michelle Halye, SUEZ
"Sports Backers developed a flexible, COVID-responsible plan for 2021 which offers companies an opportunity to get motivated, be active, and to choose to enjoy each other's company in an exciting, social environment again or to participate from afar. This event clears our heads and brings us together for a common and affirmative purpose just for a moment. For this reason, we believe the Anthem Corporate Run aligns well with our firm's goals with regard to overall employee health and morale. Additionally, we are always pleased with the connections, both personal and professional, that we make at each and every event due to the sheer number of area businesses involved. The choice of the fall timing for the 2021 Anthem Corporate Run was perfect because, along with a series of other firm initiatives, it has served to perpetuate a renewing positive energy in our firm.  Employees look forward to it. As Richmond's largest office party, it is an opportunity to return to 'normal.'" – Leigh Grosfils, McCandlish Holton
"We are interested in promoting community-building activities for our employees to participate in that benefit both the mind and body. Our employees are also personally interested in an active lifestyle and we are happy to help sponsor those activities. We're excited we already have over half our employee base signed up to participate in our first year of participating! We find events like the Anthem Corporate Run and others where spouses and family members can be involved are very popular with our employees. This event also promotes a healthy lifestyle which is good for everyone." – Francie Mann, Prime Legal Staff
"Thalhimer has participated in the Anthem Corporate Run since 2016. Not only do we promote a healthy lifestyle for our associates, we're also a very competitive group. Hence the tagline on our company-branded t-shirts for the event: We Run Real Estate! We promote socialization and camaraderie for an overall healthy work environment. The event promotes our team mentality, and it also brings together associates who manage our apartment communities with associates in our corporate office. Our Thalhimer Total Well Being initiative, 'Be Well, Be Social, Connect, Have Purpose,' fits right into the goal of the Anthem Corporate Run." – Paula English, Thalhimer
Hardywood Park Craft Brewery is Official Beer Provider for 2021
New in 2021, Hardywood Park Craft Brewery will serve as the official beer provider of the Anthem Corporate Run. Specific beer selections will be finalized prior to the event, but Richmond Lager and Great Return IPA will be among the choices for participants at the Hirschler Post-Race Office Party during the event.
Greater Richmond Fit4Kids to Serve as Event Charity Partner
Greater Richmond Fit4Kids is a non-profit organization dedicated to improving children's health and reducing the prevalence of childhood obesity in the Richmond region, and they are the event charity partner of the Anthem Corporate Run. They believe that active, well-nourished children learn more at school, have greater self-esteem, and grow to lead productive lives. They serve their mission by offering innovative programs that promote physical activity and healthy eating in schools, community organizations, and beyond.
In the spirit of friendly competition and to boost support during the Anthem Corporate Run, the Charity Cup Challenge will return in 2021! Race participants can make a donation to Fit4Kids when they register and the top fundraising team (highest team average) will be awarded the coveted Charity Cup, a team trophy that is over four feet tall.
More information on the Anthem Corporate Run, including schedule and registration details, is available at www.sportsbackers.org/events/corporate-run/.
###
About Sports Backers
With a key message of Let's Go, RVA, the mission of Sports Backers is to inspire people from all corners of our community to live actively. A non-profit organization, Sports Backers is dedicated to producing nationally recognized quality sporting events and programs that motivate residents and visitors alike to be more active, supporting youth running and fitness programs, and advocating for safe and connected networks of bike and pedestrian infrastructure. Learn more at sportsbackers.org.