Annual 'Richmond Bike to Work Day' group ride set for Oct. 15, as part of October's RVA Bike Month celebrations
Rescheduled from May, program is supported by Dominion Energy, Gather, and The James Center
---
RICHMOND – With a theme of 'Changing Lanes,' RVA Bike Month 2021 features a full calendar of bike-related events. 2021 marks the eighth year that Bike Walk RVA, a program of Sports Backers, is coordinating RVA Bike Month, with the help of dozens of volunteers and advocates from across the Richmond region. More details and the full calendar of events can be found at www.rvabikemonth.com.
One of the most anticipated events of RVA Bike Month is Richmond Bike to Work Day, which is set for Friday, October 15. Rescheduled from May, when it is typically held in conjunction with National Bike to Work Day, this year's event will feature a group ride from Richmond's Northside using a network of bike lanes as it heads to Downtown. In addition to experiencing Richmond's growing bike lane network, participants will hear about developments in bike infrastructure and planning from Mayor Levar Stoney's administration, with several members of the administration taking part in the ride.
The ride will leave from 1400 Brookland Parkway at 8:30 a.m. and arrive at Gather Arts District (313 E. Broad St) for the formal remarks and morning reception. The event will adjourn at 9:30 a.m. as riders will then proceed individually to their next destinations. Bike Walk RVA is hosting a Facebook event page to share the details here: https://www.facebook.com/events/243295297762575 
RVA Bike Month Calendar Features Over 50 Events
Highlights of the calendar so far have included the Virginia Credit Union Moonlight Ride, Black Girls Do Bike's kickoff ride, ice cream tours, and community clean ups. New in 2021 is a series of events for the Fall Line Trailblazers scheduled for October 23-24, featuring community hikes of sections of the forthcoming Fall Line Trail, a 43-mile paved multi-use trail from Ashland to Petersburg. More information for the Fall Line is available at www.falllineva.org.
The 2021 calendar will also feature the third-annual Bike Walk RVA Awards Ceremony on November 4, honoring individuals and groups for their year-round commitment to bike and pedestrian advocacy. The awards program is just one part of a calendar that features over 50 events for bike enthusiasts of all ages and experience levels. Running from September 25 through November 6, RVA Bike Month includes events taking place in the City of Richmond, Town of Ashland, and counties of Henrico, Chesterfield, Hanover, and Goochland, reflecting the growth in support and popularity of increased bike and pedestrian infrastructure throughout the Richmond region.
2021 RVA Bike Month Theme: Changing Lanes
"Earlier this year, the Virginia General Assembly passed a new law to require drivers of motor vehicles to fully change lanes when passing bicyclists in most cases, and the new law took effect on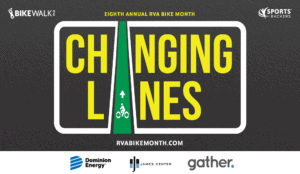 July 1," said Brantley Tyndall, Director of Outreach for Bike Walk RVA. "This platform provided by celebrating RVA Bike Month with more than 50 regional events is a great opportunity for spreading awareness about the important new law designed to prevent crashes and save lives."
The theme also draws awareness to the Richmond region's success at building dedicated places for people to bike and walk, including protected bike lanes, paved trails like the Virginia Capital Trail and forthcoming Fall Line, and traffic calming efforts to slow streets where people may be exposed to unsafe driving speeds.
RVA Bike Month hosted over 50 events with more than 5,000 participants when it was last held in 2019. For a full list of bike month events, please visit www.rvabikemonth.com.
###
About Sports Backers
With a key message of Let's Go, RVA, the mission of Sports Backers is to inspire people from all corners of our community to live actively. A non-profit organization, Sports Backers is dedicated to producing nationally recognized quality sporting events and programs that motivate residents and visitors alike to be more active, supporting youth running and fitness programs, and advocating for safe and connected networks of bike and pedestrian infrastructure. Learn more at www.sportsbackers.org.