Sports Backers Named 'Gold Level' Bike Friendly Business by League of American Bicyclists
RICHMOND, VA – The League of American Bicyclists recently recognized Sports Backers with a Gold Level Bicycle Friendly Business (BFB) award, joining over 1,000 visionary businesses across the country that have received the award. Sports Backers has been a Bike Friendly Business since 2013 and this marks the first time the non-profit organization has earned Gold status.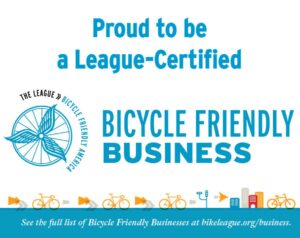 With the announcement of 58 new and renewing Bicycle friendly Businesses, Sports Backers joins a cutting-edge group of 1,118 current Bicycle Friendly Businesses, made up of local businesses, government agencies, and Fortune 500 companies in all 50 states and Washington, DC, that are transforming the American workplace.
"The League of American Bicyclists is excited to recognize this latest group of new and renewing Bicycle Friendly Businesses for making their workplaces and their communities safer, happier, healthier, and more sustainable through bicycling," said Amelia Neptune, Director of the Bicycle Friendly America program. "We applaud these businesses, including Sports Backers, for leading the charge in creating a more bicycle-friendly America for everyone."
Sports Backers and its Bike Walk RVA program take an active role in encouraging staff to utilize the various bike and pedestrian infrastructure available throughout Richmond. RVA Bike Share has been used for official work trips, for staff outings, and even as a part of Anthem Richmond Marathon course logistics. Sports Backers encourages bicycling as an easy option for transportation and provides amenities such as communal office bikes for work trips and incentives such as bike share memberships for employees and indoor personal bike parking.
"We are very proud to receive recognition as a Bicycle Friendly Business," said Max Hepp-Buchanan, Director of Bike Walk RVA for Sports Backers. "Our mission at Sports Backers and Bike Walk RVA is to inspire residents in all corners of the Richmond region to live an active lifestyle, and biking for recreation and transportation is a great way to get active on a daily basis. We also want to serve as resource to businesses around the region to become bicycle friendly and encourage more opportunities for biking."
Moving forward, Sports Backers will have access to a variety of tools and technical assistance from the League to become even more bicycle-friendly. When employees bike, great things happen: getting exercise on the way to meetings, enjoying the outdoors in Richmond, and reducing the personal cost of fuel.
###
About the Bicycle Friendly America Program
The League of American Bicyclists is leading the movement to create a Bicycle Friendly America for everyone. As leaders, our commitment is to listen and learn, define standards and share best practices to engage diverse communities and build a powerful, unified voice for change. To learn more about building a Bicycle Friendly America, including the Bicycle Friendly Business, visit www.bikeleague.org/BFA.
About Sports Backers
With a key message of Let's Go, RVA, the mission of Sports Backers is to inspire people from all corners of our community to live actively. A non-profit organization, Sports Backers is dedicated to producing nationally recognized quality sporting events and programs that motivate residents and visitors alike to be more active, supporting youth running and fitness programs, and advocating for safe and connected networks of bike and pedestrian infrastructure. Learn more at www.sportsbackers.org.