Sports Backers 8k Training Team Set to Begin on September 17
Group training program prepares runners for VCU Health Richmond 8k on Nov. 12
---
RICHMOND, VA – Registration remains open for the Sports Backers 8k Training Team, which will hold its first group runs on September 17 at five convenient locations around the area. The eight-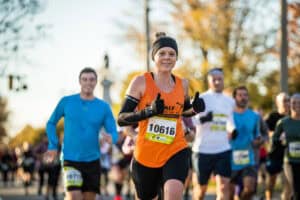 week program will prepare runners for the VCU Health Richmond 8k on Saturday, November 12, during Allianz Partners Richmond Marathon weekend. The program emphasizes the group approach to training. This marks the 11th year of the Sports Backers 8k Training Team.
Five Training Location Options Available to Participants
The 8k Training Team locations include Parker Field in Church Hill, the Dogwood Dell parking lot near The Carillon in Byrd Park, Mid-Lothian Mines Park in Midlothian, and Twin Hickory Park in Short Pump. There is also a traveling team option for those interested in meeting at different locations each week. Travel team locations include the Virginia Capital Trail, Brown's Island, and other local landmarks and establishments.
"I loved everything about the 8k Training Team: meeting new people, getting great tips, and an overall awesome time!" said Virginia Moncure, a past participant on the 8k Training Team. "I never expected the support, fun, and lifelong friendships I gained from the training team," added Lauren Caldas, a fellow past participant.
Group Runs Led by Experienced, Knowledgeable Coaches
Participants will meet on Saturday mornings for a group run with experienced and knowledgeable coaches who offer training advice and feedback. During the week, runners follow a written training schedule on their own that will prepare them gradually and safely to complete 4.97 miles on November 12. The cost of the program is currently $60. Training Team participants will receive:
The 8-week training program starting on September 17 at each of the locations, providing a detailed written schedule for participants to follow
personal guidance from knowledgeable and experienced coaches
organized and supported weekly group Saturday morning runs from five different convenient locations around the region
a special Sports Backers 8k Training Team shirt
entry in the 2022 VCU Health Richmond 8k and all associated race benefits (including participant shirt);
Special Income-Based Rates Available
Those who make $25,000 or less annually or receive proven TANF, Food Stamp, or Energy Assistance Benefits from Social Services are eligible for a special $15 rate for the 8k Training Team. Anyone interested in taking advantage of this income-based entry fee can learn more about eligibility by visiting the Sports Backers website at https://www.richmondmarathon.org/training/8k-training-team/.
Registration Price Increase for Marathon, Half Marathon, and 8k on September 16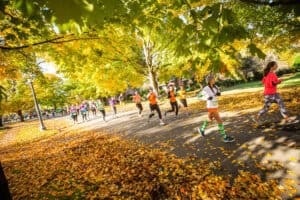 The Allianz Partners Richmond Marathon, CarMax Richmond Half Marathon, and VCU Health Richmond 8k are all set for November 12, and each race distance has a registration price increase on Friday, September 16. Prices will increase from $110 to $130 for the marathon, $100 to $110 for the half marathon, and $40 to $45 for the 8k.
The Allianz Partners Richmond Marathon is consistently recognized as a premier race experience, earning accolades such as 'Top 15 Fall Race in the U.S.,' 'Top 20 Marathon in the U.S.,' and a 'Best Bet for a Boston Marathon Qualifier.' The Allianz Partners Richmond Marathon and associated events also helped Richmond earn the distinction of being one of the 'Top Racing Cities in the U.S.'
Capping the race experience for participants of all three race distances is the scenic and celebrated finish line at the intersection of 5th Street and Tredegar Street that offers sweeping views of Brown's Island and the James River, followed by a post-race party on the riverfront.
For more details on each race distance and registration fees, please visit www.RichmondMarathon.org.
###