Event Details
Join us as we advocate for the completion of the Fall Line trail and support the project by becoming a Fall Line Trailblazer! New this year, the Bike Walk RVA team will be hosting guided hikes along sections of the trail during Trailblazer weekend October 23-24. We are also debuting our 2nd edition Fall Line Trailblazer shirt with big "it's fall, y'all" vibes.
Donation Levels
$20 Sunglasses
$43 Shirt and sunglasses
$100 Limited Edition Fall Line map, shirt, and sunglasses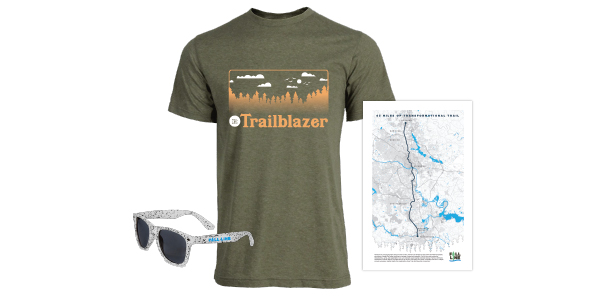 How it works:
Donate through October 31
Join a Trailblazer hike(s) October 23-24
We'll send you your Trailblazer items in mid-December
Trailblazer Weekend Hikes
All Fall Line Trailblazers are invited to participate in a Fall Line guided section tour by our Bike Walk RVA team. All guided trail hikes will be around 3 miles total, out-and-back loops, taking you along sections of the Fall Line. More information about the guided hike(s) you would like to participate in will be provided via email closer to the hike date.
Be sure to indicate which hike(s) you would like to participate in when you register.
Saturday, October 23
8:00 am: Shepherd Stadium to VSU and Patton Park (Colonial Heights, Chesterfield, and Petersburg)
10:00 am: Chester Linear Park (Chesterfield)
11:30 am: Downtown Richmond and James River crossing (Richmond)
1:00 pm: Bellemeade Community Center to Commerce Rd (Richmond)
Sunday, October 24
8:00 am: Bryan Park to Laburnum Ave (Richmond)
10:15 am: Longdale Recreation Center to Lavender Fields Farm (Henrico)
12:00 pm: Carter Park and Trolley Line trail (Ashland and Hanover)
About the Fall Line
The Fall Line is a proposed 43-mile paved trail in Central Virginia from Ashland to Petersburg. Brantley Tyndall, Director of Outreach for Sports Backers' Bike Walk RVA program, set out on an adventure along the alignment in November 2020 to explore the land and communities this trail will connect. More information about the Fall Line can be found at www.falllineva.org. Become a Fall Line Trailblazer and help advocate for building this backbone of biking and walking in the Richmond Region and beyond.