Event Info
The Great American 5000 is a virtual team run from San Francisco to New York City—and everywhere in between! Assemble your crew of up to 12 or 24 people, accumulate mileage, and chip away at the 5,000k (3,107-mile) journey. An online map will track each team's virtual progress across the country and a leaderboard will display the standings in real time, with groups in open, female, and co-ed divisions.
Your team has until September 16 to complete the 5,000k trek—that's as few as 33.7 miles per day for your team (1.4 for each individual on a team of 24)! Run, walk, hike—it can all count towards your team's mileage.
You can even make your achievement mean more by donating and helping raise funds for Sports Backers, the nonprofit event organizer!
Our experienced race organizers will be with you every step of the way! We'll set up ways for you to stay connected with your team, highlight noteworthy portions of the virtual route you are completing, and keep track of the results in real time. Who knew that social distancing could be so much fun!
Cost Per Team Member
Through June 17: $50
June 18 – June 30: $55
The fee includes:
Shirt (2023 design coming soon!)
Finisher Medal (2023 design coming soon!)
Virtual Finisher Certificate
Virtual Badges (think of these as mini-goals on your way to the finish line)
Pre-mapped 5,000k course across the country
Leaderboard and Online Map with real time standings
Virtual travel experience through fun facts and photos of things you would see along the route
Exclusive access to the Great American 5000 Facebook Group
Registration closes on June 30 at 11:59 p.m. Entries are non-refundable, non-transferable and cannot be deferred to another year.
Team Info
A team consists of up to 12 or up to 24 people. You do not have to have the maximum number in each division to be part of the challenge. For example, if you are a team of 8, then you would compete in the 12-person Ultra team category and a team of 16 would compete in the 24-person team category.
You will register as an individual. You should assign one team captain to set-up your team and then they will be able to share the team name and password (optional) for others to register and join. You will also be able to search for a team during registration and choose to join the team then. For more information, visit our Team Captain Info page.
Looking to join a team?
Join our GA5000 Facebook Group to find teams looking for members!
How the race works
The Great American 5000 officially kicks-off on Saturday, June 17.
Teams accumulate mileage together by simply submitting mileage through our event site. You must track your run using one of the many GPS-enabled tracking systems (e.g., Strava, Map My Run, Garmin, Wahoo, etc.). From there you will upload your tracked run into the event's site which will update the leaderboard and move your team's dot across the course map. Manual entries without GPS will be permitted but are not encouraged for the sake of running validation. Details about inputting daily activity results can be found here.
The first team in each division to reach the finish line in NYC will win. Teams have until September 16 to complete the 5,000k trek. A team starting on June 17 can accumulate as few as 33.7 miles per day in order to finish by the last day on September 16.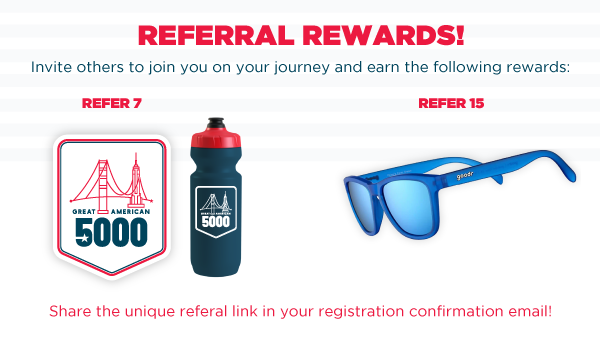 Questions
Need more info? Contact us at [email protected] or visit our FAQ page.
Partners
View All Sponsors »