Course Highlights
Who hasn't dreamed of traveling cross country, seeing hidden gems of the U.S. up close and personal? While we know the Great American 5000 is virtual, we want to recreate that same feeling of seeing things that feel once in a lifetime, and of experiencing unique slices of Americana that you didn't know existed. Weird roadside attractions, beautiful state parks, stretches of nothing, booming cities, small mom and pop staples – we want to feature it all. The miles might bring us together, but there's also a feeling of national pride. These towns, cities, and counties hold so much history and have so many stories – and we want to bring those stories to life. If you have any information that you think we should feature about somewhere along the route please email us at [email protected].
Here are just some of the highlights you'll encounter along the course!
California
Point Lobos
San Francisco
Start Line
Mile 0
Golden Gate Park
San Francisco
Mile 1
The Olympic Club golf course
San Francisco
Five-time host of the Men's U.S. Open golf championship
Mile 5
House of Beef
Oakdale
No, it's not a dwelling made of Lady Gaga's leftover meat dress. It's a restaurant.
Mile 134
Cowboy Capital of the World
Oakdale
It seems natural that only the home of the House of Beef could also claim this title
Mile 134
Chinese Camp
Tuolumne County
Remnant of a California Gold rush mining town
Mile 161
Olmsted Point
Yosemite National Park
A must-do stopping point as you venture over Tioga Pass
Mile 241
Tuolumne Meadows
Yosemite National Park
A gentle, dome-studded, sub-alpine meadow area
Mile 250
Tioga Pass
Yosemite National Park
The highest highway pass in the Sierra Nevadas (9,900 ft.) and the beginning of a steep descent
Mile 265
Mono Lake
Mono County
A saline soda lake formed at least 760,000 years ago
Mile 273
Nevada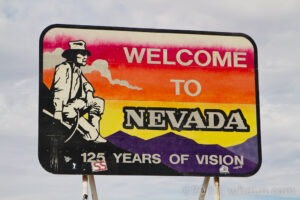 State Line
Welcome to The Silver State
Mile 322
U.S. Route 6
Miles 344-635
In these 291 miles of open spaces there are only three towns of more than 100 people. Most days you'll have the road to yourself.
Coaldale
Esmeralda County
A former mining town and true ghost town.
Mile 362
Clown Motel
Tonopah
Oh, just a motel on the edge of the desert decorated with thousands of clowns conveniently located next to an abandoned graveyard.
Mile 402
Extraterrestrial Highway
Warm Springs
On the Extraterrestrial Highway road trip, you'll run adjacent to the Nevada Test and Training Range, which includes Area 51.
Mile 452
Lunar Crater National Natural Landmark
Nye County
This massive crater in the middle of nowhere was used to train astronauts for moon landings.
Mile 480
Ely Shoshone Indian Reservation
Ely
Ely Shoshone Tribe is one of the nine bands of what is known as the Western Shoshone Nation.
Mile 570
Baker, NV
White Pine County
The 1000k mark on the course
Mile 620
Utah
State Line
Welcome to The Beehive State
Mile 635
Sevier Lake
Millard County
A huge, intermittent lake that has been mostly dry throughout recorded history
Mile 685
Topaz Relocation Camp
Delta
Japanese internment camp during World War II
Mile 715
Delta Demolition Derby
Delta
One of the largest Demolition derbies in the country
Mile 723
Uintah and Ouray Indian Reservation
Uintah Basin
The second largest Indian Reservation in the U.S., covering over 4.5 million acres.
Mile 865
Dinosaurland
Vernal
You can get a 'Dinosaur Hunting' license while in Dinosaurland that is signed by Al O'Saurus, Deputy Lizard Warden. Make sure to pick one up while in town.
Mile 952
Dinosaur Roundup Rodeo
Vernal
The Greatest Show on Dirt!
Mile 952
Dinosaur National Monument
Jensen
The park borders Utah and Colorado, but dinosaur fossils are only visible on the Utah side
Mile 965
Colorado
State Line
Welcome to The Centennial State
Mile 983
Steamboat Springs
Yampa Valley
The city's geothermal hot springs are said to have therapeutic properties and, oh yeah, they've got world class skiing, too
Mile 1,114
Medicine Bow-Routt National Forests
Steamboat Springs
Mile 1,125
Continental Divide
Buffalo Pass
This is the highest point on Great American 5000 course at 10,400 feet. It's all downhill from here!
Mile 1,128
Moose Viewing Capital of Colorado
Walden
A Møøse once bit my sister… No realli! (Monty Python joke)
Mile 1,159
Christ Mountain
Larimer County
The 2000k mark on the course
Mile 1,242
Fort Collins
Home of Colorado State University. The number one attraction on their website is craft beer. Sounds like a good place for a stop.
Mile 1,266
Julesberg
Sedgwick County
Got its start as a Pony Express stop and, by the time the Union Pacific Railroad laid tracks through town in 1867, Julesburg was known as wickedest city in the West
Mile 1,426
Nebraska
State Line
Welcome to The Cornhusker State
Mile 1,428
Front Street
Ogallala
Visit the Crystal Palace Saloon where you can walk up to the old bar, put a foot on the brass rail, cock an elbow and down a cold mug of red-eye or sarsaparilla
Mile 1,458
Bailey Yard
North Platte
The world's largest railway yard covers 2,850 acres, reaching a total length of eight miles.
Mile 1,509
Pony Express Station and Museum
Gothenburg
Wanted: Young, skinny, wiry fellows not over eighteen. Must be expert riders willing to risk death daily. Orphans preferred.
Mile 1,545
Cozad
Dawson County
The halfway mark on the course. Might as well stop and visit the Robert Henri Museum & Art Gallery while you're there.
Mile 1,553
Great Platte River Road Archway Monument
Kearney
A $60 million monument and museum that spans more than 300 feet over Interstate 80
Mile 1,604
Island Oasis Water Park
Grand Island
Wouldn't a soak in the Lazy River feel great right about now?
Mile 1,645
America's Official Fourth of July City—Small Town USA
Seward
If your team averages 81.5 miles per day, you'll be here to help them celebrate their special day!
Mile 1,712
Nebraska State Capital and the University of Nebraska
Lincoln
Mile 1,740
Wildlife Safari Park
Ashland
No this isn't Joe Exotic's place. That's in Oklahoma.
Mile 1,770
Omaha
Birthplace of the Reuben sandwich and home of the College World Series
Mile 1802
Iowa
State Line
Welcome to The Hawkeye State
Mile 1,803
Start of Transcontinental Railroad
Council Bluffs
Mile 1,803
Massena
Cass County
The 3000k mark on the course. Their motto is: "The Home of Friendly People." Maybe a good place to stop and ask to use the bathroom?
Mile 1,864
Iowa Aviation Museum
Greenfield
Mile 1,864
Bridges of Madison County
Madison County
Home to famous covered bridges and setting for the book and movie of the same name
Mile 1,905
John Wayne Birthplace Museum
Winterset
Mile 1,908
National Balloon Museum and National Balloon Classic
Indianola
Up, Up and Away…
Mile 1,932
National Sprint Car Hall of Fame and Museum
Knoxville
Mile 1,967
Oskaloosa
The small town in mentioned in the Johnny Cash song "I've Been Everywhere"
Mile 1,992
William Penn University
Oskaloosa
The school was founded by Quakers
Mile 1,992
State Theater
Washington
Guinness World Record holder for longest continually running cinema theater
Mile 2,043
Wildcat Den State Park
Muscatine
Mile 2,099
Bix Fest
Davenport
Site of the annual jazz festival and of the Bix 7 road race, both commemorating musician Bix Beiderbecke
Mile 2,120
Illinois
State Line
Welcome to The Prairie State
Mile 2,122
John Deere Pavilion
Moline
Get in the cab of some of their biggest machines on their display floor
Mile 2,125
Birthplace of Ronald Reagan
Tampico
Mile 2,167
Viking Memorial
Norway
The first permanent camp of Norwegians in the Midwest
Mile 2,230
Old Joliet Prison
Joliet
Opened in 1858, it was featured in the movie The Blues Brothers as the prison from which Jake Blues is released at the beginning of the film.
Mile 2,262
Rialto Square Theatre
Joliet
This 1920s vaudeville-era theater was a favorite of gangster Al Capone and also the place where Christopher Knight and Adrianne Curry held their wedding reception in the final episode of My Fair Brady.
Mile 2,262
Indiana
State Line
Welcome to The Hoosier State
Mile 2,292
"The Region"
This NW Indiana area outside of Chicago is know for competitive HS wrestling and home to the Jackson family
Miles 2,292 – 2,348
"Crossroads of America"
Schererville
Got its name due to state highways 30 and 41 intersecting here
Mile 2,295
Gummi Bear Factory Tour
Merrilville
Mile 2,302
Valparaiso Popcorn Festival
Valparaiso
Celebrating our favorite snack and former resident, Orville Redenbacher
Mile 2,318
Amish Country
Nappanee
Mile 2,376
Mid-America Windmill Museum
Kendallville
Over 50 historic windmills. A real eye-catcher on a breezy day.
Mile 2,413
Ohio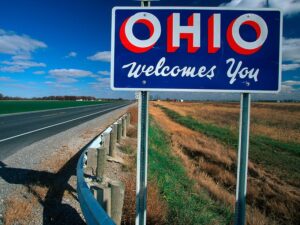 State Line
Welcome to The Buckeye State
Mile 2,439
Dum-Dums Lollipop Factory Tour
Spangler candy company offers a trolley tour of the factory(!)
Bryan
Mile 2,452
McClure
Henry County
The 4000k mark on the course
Mile 2,485
National Tractor Pulling Championships
Bowling Green
Mile 2,500
Rutherford B. Hayes Presidential Center
Fremont
His is the first presidential library, built in 1916
Mile 2,529
Castle Noel
Medina
"America's largest indoor, year-round Christmas entertainment attraction"
Mile 2,599
Ohio & Erie Canal Towpath Trail
Akron
85 mile multi-use trail running along the Cuyahoga River
Mile 2,615
Cuyahoga Falls National Park
Cuyahoga Falls
The only national park that began as a national recreation area
Mile 2,620
Pennsylvania
State Line
Welcome to The Keystone State
Mile 2,674
Black Moshannon State Park
Rush Township
The highest point along the course east of the Mississippi River (2,400 ft.)
Mile 2,828
Grange Fair
Centre Hall
Since 1874, where people pitch tents and sleep on site at the fair
Mile 2,852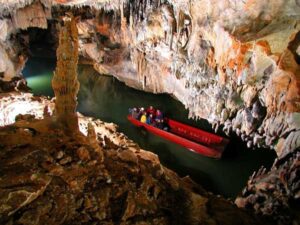 Penn's Cave & Wildlife Park
Centre Hall
"America's only all-water cavern & farm-nature-wildlife park"
Mile 2,852
Bucknell University
Lewisburg
Mile 2,897
Knoebels Amusement Resort
Bloomsburg
America's largest free admission amusement park
Mile 2,922
Giant Rooster
Nescopeck
You'll pass by a giant rooster statue outside a laundromat on your right between Mercer and Broad Streets.
Mile 2,935
New Jersey
State Line
Welcome to The Garden State
Mile 3,008
Thomas Edison National Historical Park
West Orange
The former home and laboratory of the state's most famous. See where such breakthrough technologies as movie cameras, sound recordings, and batteries first saw the light of day.
Mile 3,062
Yogi Berra Museum
Montclair
"When you come to a fork in the road, take it." The Hall of Fame Yankees catcher lived here for decades.
Mile 3,063
George Washington Bridge
Crossing the Hudson River into NY
This double decker span is the busiest motor vehicle bridge in the world. Just don't get stuck in one of Chris Christie's traffic jams.
Mile 3,082
New York
State Line
Welcome to The Empire State
Mile 3,082
Little Red Lighthouse
Lafayette Plaza
The Jeffrey's Hook lighthouse sits beneath the George Washington Bridge
Mile 3,082
Harlem
Borough of Manhattan
Internationally known as the Black Mecca celebrating African American culture
Mile 3,086
Coogan's Bluff
Highland Park
Once the site of the Polo Grounds, home of the New York Giants baseball team. You'll also see Yankee Stadium off to your left across the Harlem River.
Mile 3,084
Central Park
Manhattan
The busiest urban park in the U.S. and the backdrop to countless iconic movies
Mile 3,089
Balto the Dog Statue
Central Park
Heroic sled dog that helped relay medicine over 700 miles through blinding snow and subzero temperatures to save children during a diphtheria outbreak in Nome, Alaska in 1925
Mile 3,089
Fifth Avenue
Manhattan
One of the most expensive and elegant streets in the world. Do you keep running or stop and take time to window shop?
Mile 3,090
Empire State Building
Manhattan
Visitors can see 80 miles into N.Y., N.J., Conn., Pennsylvania and Mass. on a clear day
Mile 3091
Williamsburg Bridge
Manhattan into Brooklyn
Carrying rail, trolley and roadways for carriages and pedestrians, it was one of the last major bridges designed for the horse and carriage
Mile 3,094
Ft. Tilden Beach
Queens
Finish Line
Mile 3,107
You made it!
Partners
View All Sponsors »