Voter Education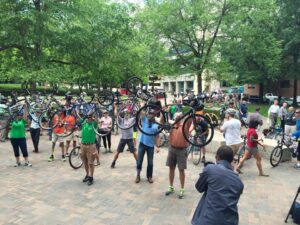 Voters have a right to be informed about candidates' positions on issues. Bike Walk RVA is committed to working with candidates across the political spectrum to make our region's roads safer and our communities healthier.  During each election cycle, we administer candidate questionnaires, do outreach with voters, and host events to elevate our regional dialog around policies, planning, and funding for biking and walking infrastructure.
Bike Walk RVA's voter education programs are strictly educational in nature — our goal is to educate candidates on the important issues that affect biking and walking in the city and surrounding counties, as well as inform voters as to where the candidates stand on those issues.
Sports Backers is a 501(c)3 nonprofit organization and does not support or oppose candidates or political parties.
2018 Election
Henrico County's Brookland Board of Supervisors Candidate Questionnaire.
2017 Election Archive
Henrico County's Brookland Board of Supervisors Candidate Questionnaire.
2016 Election Archive
The City of Richmond's Mayoral and Council candidates responded to questions in 2016 about Richmond's Bike Master Plan, pedestrian safety, and making Richmond a city known for active transportation and street safety.
2015 Election Archive
Chesterfield County & Henrico County both held elections for seats on their Boards of Supervisors in 2015. All candidates running for these important posts were administered questionnaires about creating safe and comfortable places for residents and visitors to walk and bike. Review their answers from 2015.