RVA Bike Month
RVA Bike Month – the most wonderful time of the year.
Every May, Bike Walk RVA partners with local volunteers, bike shops, businesses, and other organizations to organize a full month of fun biking-related events that encourage everyone from first-time bike riders to seasoned cyclists to get out and ride.
The events come in all shapes and sizes, and there really is something for everyone! Taco crawls, brewery tours, bike polo, family fun rides, bike lane cleanups, bike commuting seminars, and so much more make up the diverse lineup of events that RVA Bike Month offers each year.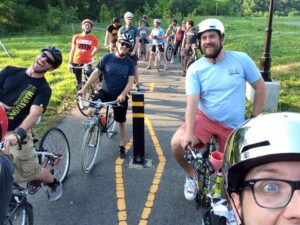 RVA Bike Month is powered by an amazing group of volunteers who create, promote, and execute their own events. Have an idea? We'll help you make it happen.
Email Brantley Tyndall ([email protected]) to get involved. RVA Bike Month 2017 needs you!
RVA Bike Month isn't just the most wonderful time of the year. It's also a great momentum builder for the biking and walking movement, and gets new people excited about advocating for comfortable, connected places to bike and walk in the Richmond region.
Now in it's fifth year, RVA Bike Month's 2018 calendar, presented by Bon Secours, is below!