Wave Information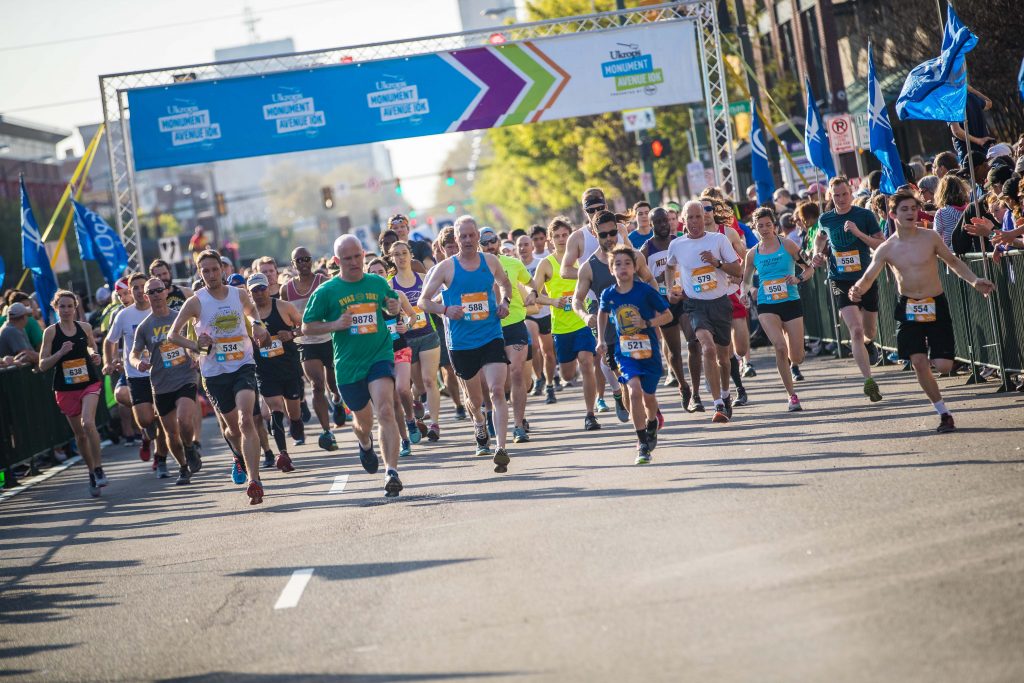 What are Waves?
It's pretty simple actually. Instead of one big start with all 20,000 people taking off at once, we divide everyone into waves. Each wave is organized by people's expected pace so that everyone can run with people their own speed. Waves start with the fastest runners, then go to slower runners, then joggers, then walkers. You will select your wave when you register.
Event personnel will be positioned at the starting line to enforce that participants are starting in their correct wave.
Wave Categories
Seeded Waves 
Require proof of time. Seeded waves are reserved for runners who finish faster than 63 minutes. You may use the following items as proof of time:
2023 or 2022 Ukrop's Monument Avenue 10k finish time
Results from any other race since January 1, 2022:
For more information about Seeded Waves and our Sub 40 Club, click here.
Non-Seeded Waves 
DO NOT require proof. For anyone planning to finish faster than 70 or minutes or longer.
Qualifying Questions?
Email [email protected].
Running with Others
If you want to be in the same start wave with others, you may do so as long as that wave has not reached its capacity.
If you want to run with a friend in a seeded (Sub 63-minute) wave, you

both

must supply proof of a qualifying time.
If you register with a group and want to be placed together, you all must select the slowest person's wave.
Race Day Wave Starts
Race Day Procedure
Pin your bib to the front of your shirt, where it's most visible. You must wear your bib to be admitted into the start corral.
Report to the Start on Broad St. (for a map of the area, click here) – waves will extend from the Start Line (at Harrison) all the way back towards Belvidere St.
Find the volunteer holding the sign with the letter corresponding to wave on your bib. Locate your wave in the box on the bottom left of your bib.
The volunteer will walk your group into the start corral as your start time approaches.
Please note:
If you wish to start with someone who has a different predicted time, you may do so by dropping back to the slower person's wave. No one may move up to a faster wave.
Chip timing records your exact start and finish time, so your results will accurately reflect the time it took you to run the race no matter which corral you start in.
Each wave will start

promptly

at its designated time. You are responsible for being on-time for the start of your wave.
Starting mats will be turned off immediately after the start of the final wave in order to reopen Broad Street, so latecomers are in danger of not receiving an accurate start time.
2024 Wave Schedule (Subject to change)
| | |
| --- | --- |
| Start Time | Wave |
| 8:30 a.m. | Wave A: Seeded Runners – Sub 40:00 |
| 8:31 | Wave B: Seeded Runners – 40:00 to 43:59 |
| 8:33 | Racing Wheelchair Wave |
| 8:34 | Wave C: Seeded Runners – 44:00 to 47:59 |
| 8:35 | Wave D: Seeded Runners – 48:00 to 50:59 |
| 8:36 | Wave E: Seeded Runners – 51:00 to 52:59 |
| 8:37 | Wave F: Seeded Runners – 53:00 to 54:59 |
| 8:38 | Wave G: Seeded Runners – 55:00 to 55:59 |
| 8:39 | Wave H: Seeded Runners – 56:00 to 57:59 |
| 8:40 | Wave J: Seeded Runners – 58:00 to 59:59 |
| 8:41 | Wave K: Seeded Runners – 60:00 to 60:59 |
| 8:42 | Wave L: Seeded Runners – 61:00 to 61:59 |
| 8:42 | Wave M: Seeded Runners – 62:00 to 62:29 |
| 8:44 | Wave NA: Runners – 63:00 – 65:59 |
| 8:49 | Wave NB: Runners – 63:00 – 65:59 |
| 8:54 | Wave NC: Runners – 63:00 – 65:59 |
| 8:59 | Wave ND: Runners – 63:00 – 65:59 |
| 9:02 | Wave PA: Runners – 66:00 to 69:59 |
| 9:05 | Wave PB: Runners – 66:00 to 69:59 |
| 9:08 | Wave QA: Joggers – 70:00 to 74:59 |
| 9:12 | Wave QB: Joggers – 70:00 to 74:59 |
| 9:15 | Wave RA: Joggers – 75:00 to 89:59 |
| 9:19 | Wave RB: Joggers – 75:00 to 89:59 |
| 9:22 | Wave SA: Jog/Walk – 90 to 100 min. |
| 9:26 | Wave SB: Jog/Walk – 90 to 100 min. |
| 9:29 | Wave T: Walk/Jog – 100 to 110 min. |
| 9:33 | Wave U: Walkers – 110 min. or more |
| 9:40 | Start line closes |
Featured Sponsors
View All Sponsors »