Wave Information
What are Waves?
In order to provide the safest and most enjoyable event experience, the start is divided into groups ("waves") of participants with the same general speed. You will select your wave on your registration form. Event personnel will be positioned at the starting line to enforce that participants are starting in their correct wave
Registration:
Seeded Waves (Sub 63-Minute 10kers)
Online – Provide your results (the race name, distance and time), along with the link to that race's results page.
Mail/Fax – Attach a copy of your proof to the entry form. Proof must include the race name, date, your name and your time.
Proof of Qualification
Proof of qualification is required to run in any of the first THIRTEEN seeded waves. You may use the following items as proof of time: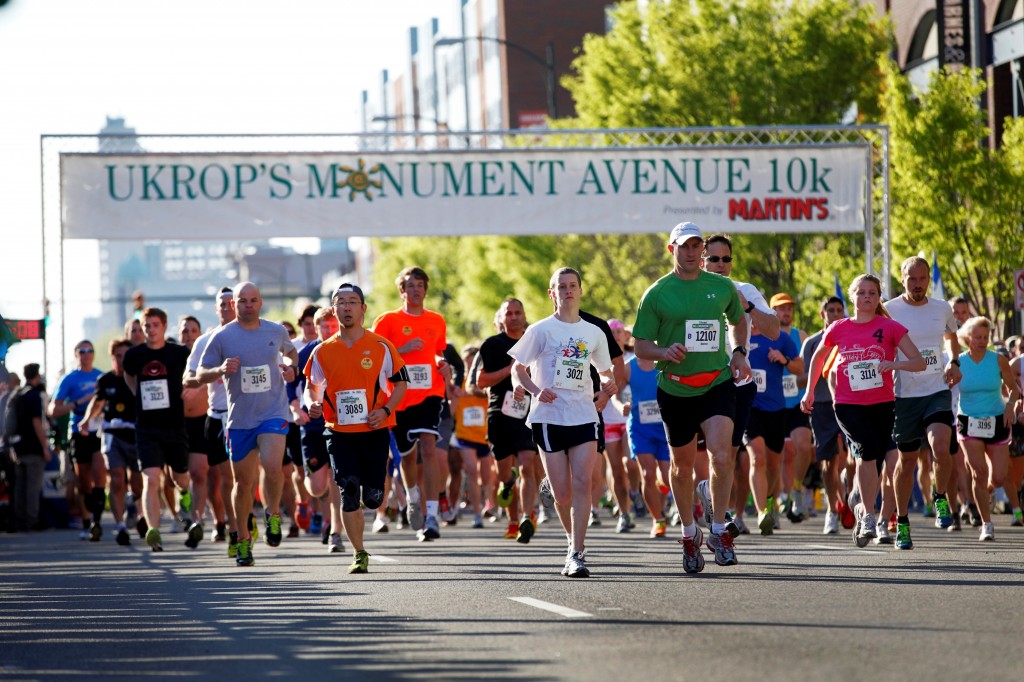 Results from any other race since January 1, 2015:

Finisher's certificate, printed race result, website results or a newspaper clipping
We can convert any race, from a 5k up to a marathon, into an 10k Time Conversion Chart.
No Proof of Time?
If you haven't earned a seeded wave qualifying time prior to registering, it's not too late! You can still do so by running a race prior to April 1st and emailing us your time or bringing proof of a qualifying time with you to packet pick up. Or contact us to see how you can qualify for a seeded wave without running a race.
Even if you don't start in a seeded wave, you'll still have plenty of room to run – there are no more than 1,500 people in a non-seeded wave.
Qualifying Questions?
Email [email protected].
Jog/Walkers, Walk/Joggers & Walkers
Special waves have been set aside just for you, so make sure you select the proper wave when registering! For safety reasons and to be courteous to faster participants, walkers will not be placed in the running waves.
Running with Others
If you want to be in the same start wave with others, you may do so as long as that wave has not reached its capacity.
If you want to run with a friend in a seeded (Sub 63-minute) wave, you

both

must supply proof of a qualifying time.
If you register with a group and want to be placed together, you all must select the slowest person's wave.
If you want to run with a faster runner, make sure they are willing to start with you in a slower wave before you register.
Race Day Wave Starts
Race Day Procedure
Pin your bib to the front of your shirt, where it's most visible. You must wear your bib to be admitted into the start corral.
Report to the Start on Broad St. (for a map of the area, click here) – waves will extend from the Start Line (at Harrison) all the way back towards Belvidere St.
Find the volunteer holding the sign with the letter corresponding to prefix on your bib.E.g. If your bib number is B1244, then look for the "Wave B" sign.
The volunteer will walk your group into the start corral as your start time approaches.
Please note:
If you wish to start with someone who has a different predicted time, you may do so by dropping back to the slower person's wave. No one may move up to a faster wave.
Chip timing records your exact start and finish time, so your results will accurately reflect the time it took you to run the race no matter which corral you start in.
Each wave will start

promptly

at its designated time. You are responsible for being on-time for the start of your wave.
Starting mats will be turned off immediately after the start of the final wave (Wave VA) in order to reopen Broad Street, so latecomers are in danger of not receiving an accurate start time.
2017 Wave Schedule
| | |
| --- | --- |
| Wave | Start Time |
| Wave A – Seeded Runners – Sub 44:00 | 8:30 a.m. |
| Wave AW – Racing Wheelchairs | 8:33 |
| Wave B – Seeded Runners – 44:00 to 46:59 | 8:35 |
| Wave C – Seeded Runners – 47:00 to 48:59 | 8:37 |
| Wave D – Seeded Runners – 49:00 to 50:59 | 8:39 |
| Wave E – Seeded Runners – 51:00 to 52:59 | 8:41 |
| Wave F – Seeded Runners – 53:00 to 53:59 | 8:43 |
| Wave G – Seeded Runners – 54:00 to 54:59 | 8:45 |
| Wave H – Seeded Runners – 55:00 to 55:59 | 8:47 |
| Wave J – Seeded Runners – 56:00 to 57:59 | 8:49 |
| Wave K – Seeded Runners – 58:00 to 58:59 | 8:51 |
| Wave L – Seeded Runners – 59:00 to 59:59 | 8:53 |
| Wave M – Seeded Runners – 60:00 to 60:59 | 8:55 |
| Wave N – Seeded Runners – 61:00 to 62:59 | 8:57 |
| Wave PA – Runners – 63:00 to 65:59 | 8:59 |
| Wave PB – Runners – 63:00 to 65:59 | 9:03 a.m. |
| Wave PC – Runners – 63:00 to 65:59 | 9:07 |
| Wave PD – Runners – 63:00 to 65:59 | 9:11 |
| Wave PE – Runners – 63:00 to 65:59 | 9:11 |
| Wave QA – Runners – 66:00 to 69:59 | 9:14 |
| Wave QB – Runners – 66:00 to 69:59 | 9:17 |
| Wave RA – Joggers – 70:00 to 74:59 | 9:20 |
| Wave RB – Joggers – 70:00 to 74:59 | 9:23 |
| Wave SA – Joggers – 75 to 90 min. | 9:26 |
| Wave SB – Joggers – 75 to 90 min. | 9:29 |
| Wave TA – Jog/Walkers – 90 to 100 min. | 9:32 |
| Wave TB – Jog/Walkers – 90 to 100 min. | 9:36 |
| Wave TC – Jog/Walkers – 90 to 100 min. | 9:40 |
| Wave UA – Walk/Joggers – 100 to 110 min. | 9:43 |
| Wave UB – Walk/Joggers – 100 to 110 min. | 9:46 |
| Wave VA – Walkers – 110 min. or more | 9:49 |
Featured Sponsors
View All Sponsors »