Event Charities
VCU Massey Cancer Center: Accept the Massey Challenge!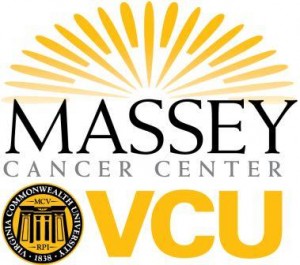 The VCU Massey Cancer Center is the official charitable fundraising partner of the Ukrop's Monument Avenue 10k for the thirteenth year! In partnership with Sports Backers, when you accept the Massey Challenge, you help raise funds and awareness to support Massey's life-saving research mission and an active, healthy community. Did you know one in five cancers is preventable with an active, healthy lifestyle? The odds are high that someone you know is battling cancer right now. Massey is fighting to save lives and find cures right here in Virginia. While progress is being made every day–we still need your help to honor those who are fighting or have fought cancer. 100% of every dollar raised stays right here in Richmond at VCU Massey Cancer Center.
As you register for the 10k this year, please consider one of these options:
1. Accept the Massey Challenge! Register (for free) at masseychallenge.com, and use your personal page to tell us your story, recruit donations, and share your fundraising goal!
2. Organize a fundraising team with family, friends, or coworkers. Recruit those you know to help raise funds in honor or in support of someone battling cancer. Use the 10k as a meaningful way to make your miles matter come April 1, 2017.
3. Make a personal donation. Donate during 10k registration, or go online to masseychallenge.com to donate in support of those running the 10k with Team Massey.
Our suggested fundraising or donation amount? $100! Just think, that's asking 10 friends for $10–it's that easy! Once you raise or donate $100, you receive Team Massey's technical shirt to wear on race day. We also provide in honor of, in memory of, and survivor bibs to accompany your race shirt, so you can let your fellow 10k-ers know how you're making your miles matter!
Kids Run RVA
Kids Run RVA is an initiative of Sports Backers that motivates thousands of young people across our region to run and be active on a regular basis. Sports Backers is committed to improving the health of our children by encouraging routine physical activity, which is critical to their long-term growth and well-being.
As an official charity of the Ukrop's Monument Avenue 10k, donations to Kids Run RVA help us to provide free training opportunities for youth of all ages, abilities and backgrounds as well as funding to support school-based run clubs and events.  For schools with fewer resources, Kids Run RVA grants can additionally cover transportation and entry fees to Sports Backers events–like the Virginia529 Kids Run–which serve as celebrations of the students' discipline and hard work.
We invite each of you to learn more about how you can get involved with Kids Run RVA. Each time a child laces up his or her shoes, you will be giving them the most important gift of all–a path to good health and fitness!
Featured Sponsors
View All Sponsors »