10k Pricing & Registration
Ukrop's Monument Avenue 10k Registration – Saturday, March 28, 2020
Current Price:
Adults: $30*
Youth (14 & under on Race Day): $20*
*Through April 30 at 11:59 p.m.
To Register
Entries are non-refundable, non-transferable and cannot be deferred to another year. The minimum age to register for the Ukrop's Monument Avenue 10k is 6 years old.  Youth pricing is for participants 14 or younger on Race Day.  
Starting Waves
For information on the Starting Waves for the Ukrop's Monument Avenue 10k, including how to qualify for a Seeded Wave, click here.
COST INCLUDES:
Event t-shirt

You may UPGRADE to a technical running shirt for $20 while registering. By selecting this option, you will receive a tech shirt instead of a cotton t-shirt.
You may also opt out of your event shirt and we will donate the cost of the shirt to our event charities.

Event bag
Race bib

All bibs feature a ChronoTrack "B" Race Timing Tag, a light-weight disposable timing device that

remains

on your bib. Please do not fold or wrinkle your bib, and be sure to wear it on the front of your torso, where it's clearly visible.

Finisher Medal
Gift Certificates
Are you looking to help your friends and family get active? You can now purchase gift certificates for entry into the Ukrop's Monument Avenue 10k or YMCA 10k Training Team. Click here to buy a gift certificate and choose your option from the drop down menu along the top of the page (bottom of the page on mobile). 
Already Registered?
Click here to confirm your entry
Refer your friends & family and be rewarded!
The only thing better than the 10k experience is sharing it with friends and family! Invite others to join you at the 2020 Ukrop's Monument Avenue 10k. You can earn a $10 refund of your registration fee by referring five friends to sign up and join you! Get a total of 10 friends to sign up and you'll also earn your choice of a Run RVA Shirt!
All you need to do is share your unique referral link! You can email, share on social media or text your friends the link.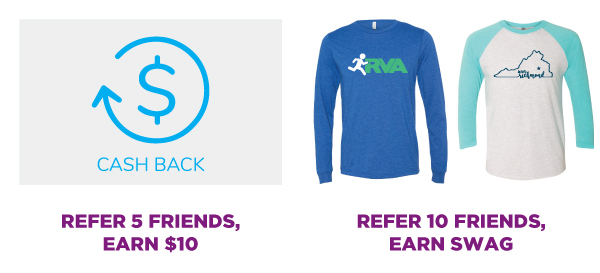 Cancellation Policy
Entry fees are non-refundable. Race numbers and entries cannot be transferred to another year or person. No exceptions. This means once we have received your entry, you will not receive a refund if you cannot participate, and you may not give or sell your number or timing chip to anyone else. Anyone found participating with another person's number will be disqualified and both people will be barred from future Sports Backers events, including the Ukrop's Monument Avenue 10k and VCU Health Richmond Marathon.
Featured Sponsors
View All Sponsors »