Ragnar Trail Richmond Fundraising Team
Hit the trails of one of Virginia's natural jewels, Pocahontas State Park, as a Kids Run RVA hero at the 2020 Ragnar Trail Richmond and experience VIP treatment! With every mile you run, you are helping push forward the programming of Kids Run RVA throughout the greater Richmond region.
Want to help a local child train for and run their very first road race? Want to support us by helping provide proper footwear for those young runners who need them? Want to support the growth of a run club at a local school? We are looking for YOU!!! By participating in RTR as a Kids Run RVA fundraising team, you are helping us do all of those things and more!
Our 2019 Ragnar Trail Richmond fundraising teams raised a total of over $14,000 for Kids Run RVA.  Want to join the fun?
All Kids Run RVA fundraising team members will receive:

Free race entry
Preferred campsite location
Saturday morning surprise breakfast!
Additional VIP surprise race incentives
Minimum Team Fundraising commitment:  $4,000 ($500 per runner)
What does $4000 amount to for Kids Run RVA?
$4,000 = 20 school buses bringing kids to a running event
$4,000 = 80 pairs of running shoes for kids in need
$4,000 = 265 kids running their very first race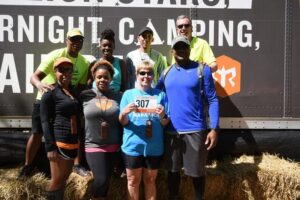 Through this support, Kids Run RVA is making a lasting impact on the overall well-being of kids across RVA!  Participate in Ragnar Trail Richmond on April 24-25, 2020 and help us achieve our goal of providing these opportunities to RVA's youngest runners!
Still reading?  Still interested in being a Kids Run RVA hero?  Check out this video to see Kids Run RVA in action, and then email Jacki Quinlan to get your team all set and ready to roll!