Bike Restaurant Week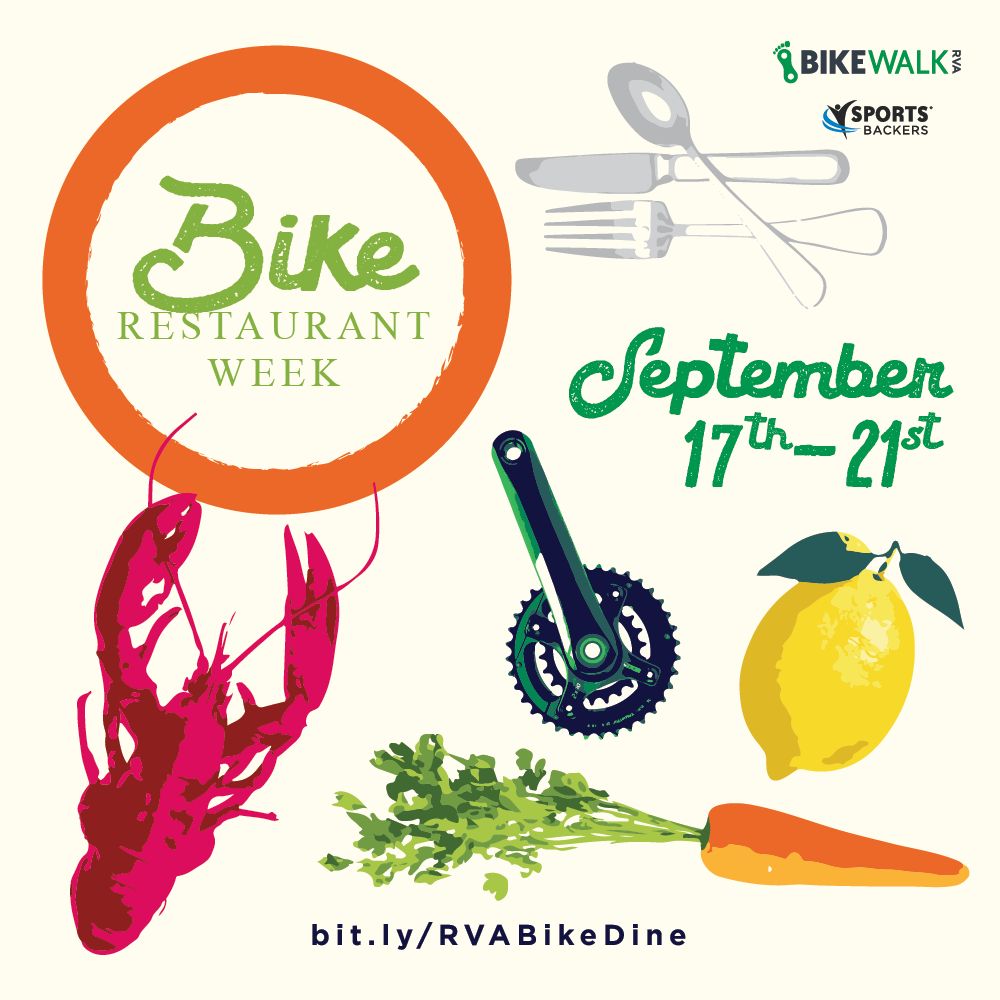 It is a distinct pleasure of exploring Richmond's neighborhoods simply by riding one's bike to a new restaurant there. Most of the time, the ride and the food are great, and one remembers the restaurants and the neighborhoods that provide a great experience – often meaning bike lanes, bike parking, and a fun community spirit.
Now Bike Walk RVA is sharing that experience with you! September 17-21 will be Richmond's first Bike Restaurant Week, a 5-day promotion with 21 participating restaurants celebrating the 5 cardinal directions of the city. We'll highlight one direction of town each day and lead a guided bike ride to all the participating restaurants from a central location. No hassles, just new friends and good food! And each restaurant has a discount, deal, special menu item, or other promotion just for you for riding your bike there!
Richmond Bicycle Studio is also offering to help with the rides and to help get your bike ready to go. If you don't have a bike or if you're close to one of the stations, RVA Bike Share, which launched in August, might be the perfect ticket for you!
#rvabike #rvadine
---
Participating restaurants, schedule, and event links for guided rides:
 * Unless noted otherwise, restaurants below are participating for their featured day of the week only.
Southside – Sunday September 17 (click to RSVP)
O'Tooles – 10% off total
Crossroads
Laura Lee's – The Wheel Deal limited-time cocktail special
Legend Brewing Company – 10% off an app
East End – Monday September 18 (click to RSVP)
Union Market – 10% discount for a prepared food item
Liberty Public House – complimentary Bavarian Pretzels appetizer ($7 value)
Casa del Barco – complimentary Queso de la Casa appetizer ($8.50 value)
Station 2 – complimentary Potato Chip App served with a small Beer Cheese
Northside – Tuesday September 19 (click to RSVP)
Black Hand – 10% off all week at both locations
Stir Crazy – free 12 oz drip coffee or iced tea 
Lunch/Supper
Luncheonette (Brookland Park location) – 20% off total
West End – Wednesday September 20 (click to RSVP)
Lamplighter – $.25 off all purchases, all three locations
Palani Drive – 10% off plus free chips and salsa
Ellwood Thompson's – free Ellwood Thompson tshirt
Stuzzi – $6 margherita pizza ($7.99 value)
Buddy's – 10% off plus 1/2 build your own burger
Downtown – Thursday September 21 (click to RSVP)
Alchemy Coffee – 20% off total all week, free espresso on Thursday. Each requires tag on social media picture
Garnett's downtown – free cookie with purchase
Mama J's – 10% off total all week
Flora – $2 off all non-happy hour items
My Noodle & Bar – 10% off all week