Event Charity
Sports Backers
As we navigate our ever-changing world, our mission to inspire you to live an active lifestyle remains. Please consider making a tax-deductible donation to Sports Backers today!  As a 501(c)(3) non-profit organization, donations are vital to our mission of inspiring active living in all corners of our community. Your support allows us to: Advocate for safe and accessible bike and pedestrian infrastructure, offer affordable free fitness classes, support running clubs at area schools, and develop fun, new participatory events for our entire community.
Now, more than ever, our community needs to be physically active. Due to COVID-19, Sports Backers had to stop all in-person events and cancel all in-person programming in the Spring. But, our staff is hard at work bringing virtual and social distancing options to our region including virtual & outside fitness classes, virtual kids physical activity videos & classes, workout challenges, virtual events, and, most recently, socially distanced in-person events. So please consider a donation to Sports Backers because, with your support, we can make this region a more vibrant place to live and work! Thank you for considering an investment in our region's future!
Virginia Capital Trail Foundation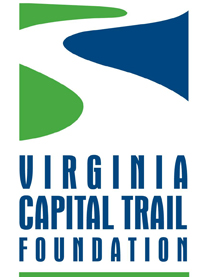 The Virginia Capital Trail Foundation (VCTF) is a nonprofit, 501 (c)(3) organization, with a mission to enhance, promote, and advocate for the continued development of the Virginia Capital Trail, a 52-mile dedicated multi-use trail connecting Richmond and Williamsburg along the beautiful and historic Route 5 corridor. VCTF depends on private donations to succeed. Sports Backers works to inspire an active community and the Virginia Capital Trail provides amazing opportunities for active recreation, active transportation and economic development in our Region. If you enjoy the trail or share our passion for this glorious regional amenity, please consider making a financial contribution to support the Virginia Capital Trail.
Featured Sponsors