Event Charity
Greater Richmond Fit4Kids
Greater Richmond Fit4Kids believes that active, well-nourished children learn more at school, have greater self-esteem, and grow to lead productive lives.  They are a non-profit organization dedicated to improving children's health and reducing the prevalence of childhood obesity in the Richmond region.  They do this by offering innovative programs that promote physical activity and healthy eating in schools, community organizations, and beyond.
Fit4Kids is reaching more than 10,000 children each year through their innovative programs, like Learning Gardens at 20 schools throughout the region.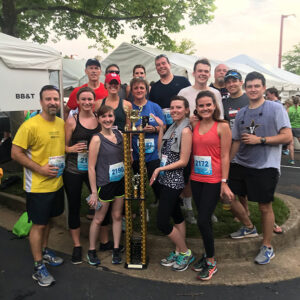 With the transition to screen-based learning and mass distribution of processed food due to COVID-19, there are fewer opportunities to be active and healthy, making Fit4Kids' work more critical than ever!  Help us continue our work in our new virtual format by donating to Fit4Kids.  In the spirit of friendly competition and team camaraderie, the Charity Cup Challenge will continue for this virtual event.  Race participants can make a donation when they register and the team with the highest donation average will be awarded the Charity Cup, a 4+ foot tall trophy! Donations made by October 9th count towards the Challenge.

The winning team will be revealed in the recap video from Sports Backers on 10/16. 
For more information about Fit4Kids programs, please check out their website, like them on Facebook, or follow them on Twitter or Instagram.  For questions, email Leigh Busby at [email protected]. Thanks for your help!
Featured Sponsors
View All Sponsors »