Training Team Information
Head Coaches
Carrie Parker
Carrie Parker helps lead the Team, bringing with her ten years of experience with the MTT and four years coaching the YMCA 10k Training Team. She actively supports and trains with many athletes within our local community. She's deeply grounded with the desire to see everyone get active and happy, regardless of the speed or the distances…so let's get moving!
Jake Wiseman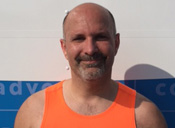 After helping a co-worker train for her first 10K in 2005 with the YMCA, they both decided to tackle the ½ marathon. For Jake, he decided to use the Marathon Training Team to get him to his goal. He figured if he could survive the training for the Half Marathon, then he might stick around for the Full. Stick around he did. A few MTT seasons later, he was asked to be an Assistant Coach. And a few more after that, he was Head Coach of his own team. With 20+ marathons, ultras, multi-sport, and relay races under his belt, Jake still enjoys the odd 2 AM run in the woods or 10 miles on snow covered streets. After 10+ years of coaching with MTT and other 10K training programs, Jake looks forward to helping his fellow coaches motivate even more people reach their goal of an amazing marathon finish.
Kevin Burcham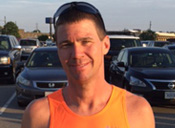 After attempting to train for a marathon solo, Kevin found the Sports Backers Marathon Training Team and has been with them for 18 years, 11 years as a coach. MTT helped Kevin complete 20 plus marathons, achieve his goal of running a sub three hour marathon, and qualifying for numerous New York City and Boston Marathons. Kevin is certified as an RRCA Adult Distance Running Coach. Helping runners find success, however they define it, is his main goal.
Fitness Requirements to be on the Training Team
There is a 7-hour time limit to complete the VCU Health Richmond Marathon, so that requires maintaining an average pace of about 16 minutes per mile for the entire 26.2 miles. Based on the industry standard pace calculators, comparable times would be about 3 hours, 20 minutes for a half marathon or 1 hour, 30 minutes for a 10k. Each participant should be able to comfortably finish four miles several times per week while primarily running prior to the start of the Sports Backers Marathon Training Team. We will monitor the progress of all of our runners during the early part of our training to make sure you have the fitness to complete the marathon in the required time. You must be 18 years or older to join the Sports Backers Marathon Training Team.
Other Races
Throughout the duration of the Sports Backers Marathon Training Team program, some local races may be used as training runs. These races may require additional entry fees and will be optional.
Sports Backers Marathon Training Team Info Video
Find out everything you've ever wanted to know about MTT!