Exercise Prescription Program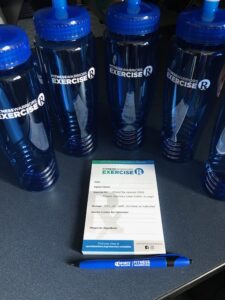 Did you know that exercise is medicine? Well it is indeed.  Exercising helps to lower your blood pressure and you reap the benefits of physical activity just by getting active.  In other words, you don't have to lose weight or get fit to experience the medicinal qualities of exercise – you just have to get moving!  In fact, research has shown that exercise is just as effective as prescription medication for several chronic diseases.  And the exercise provided at our Fitness Warrior classes is FREE so this prescription won't cost you a thing!
That's why we've partnered with local health care organizations, particularly those serving low income patients that tend to lack access to regular physical activity and be at greater risk of experiencing chronic diseases, to have doctors prescribing our free fitness classes.  The prescriptions make the instructions very clear and specific for the patient while having them pre-printed with a class schedule to provide along with the prescription makes the physician's job easier.  It's a win, win!
If you are a physician or a physician's office who is interested in getting involved with this initiative, please contact [email protected].