Workforce Fitness Program
Engaging Employees during COVID-19
We've inspired active living throughout our region for 29 years
Now more than ever, Sports Backers wants to serve our business community by maintaining a culture of teamwork and camaraderie through engaging in physical activity while working remotely.
Working from home has forced us to reinvent the ways we support one another despite the significant changes to our work environment. Sports Backers hit the ground running and have successfully continued to promote physical activity and maintain our culture of teamwork through a variety of ways:
Motivating team members to be active through:
– Weekly virtual Zoom workouts
– Active movement breaks during staff meetings
– Fitness Challenges
Weekly virtual socials
Walking meetings
Sports Backers Fitness B-I-N-G-O
We want to partner with you!
Here is how we can help your organization maintain a culture of teamwork and active living during COVID-19:
Sports Backers Zoom led group fitness classes
Sports Backers led Zoom active meeting breaks
Fitness plans/challenges tailored to your organization and goals
Virtually compete with other businesses in fitness challenges
COVID-19 Active Living Monthly Newsletter
Company recognition on Sports Backers' social media, newsletter, and website
Customized email and social media graphics with your company logo
Email Kristin Eichert, Corporate Sales Manager, for more information.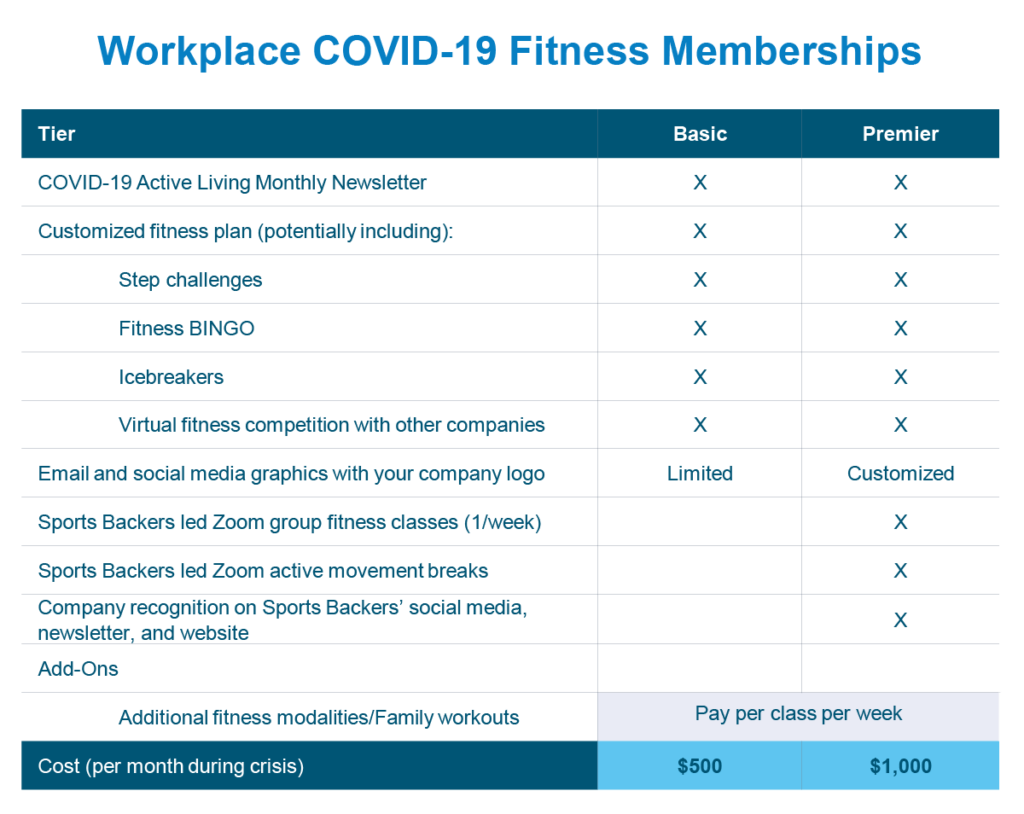 Samples