Ragnar Runners Support RVA's Youngest Runners
By: Jacki Quinlan, Director of Youth Programs
---
On April 29th and 30th, three brave teams will take on Ragnar Trail Richmond at Pocahontas State Park. Each team, consisting of 8 runners, will complete 122.4 mi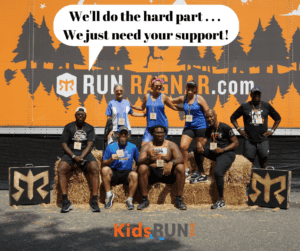 les in a relay-style trail race. These 24 individuals, most of whom are a part of Black Men Run and We Off The Couch, will push themselves physically and mentally to complete this challenge. Each individual will test their endurance on the trails, but they also have a greater purpose that they are running for: Kids Run RVA. That's right, each runner is doubling as a fundraiser. They've each set a goal of becoming a Ragnarian, by running their assigned trail miles at all hours of the day and night. They've also set a fundraising goal in order to become a Kids Run RVA Hero. Collectively, these 24 runners have set a goal of raising $10,000 for Kids Run RVA!
As these adult runners are training for their big event, the region's youngest runners are out training for their big race too! Kids from all across town – Chesterfield, Dinwiddie, Henrico, Hopewell, Petersburg, Powhatan, and Richmond – will toe the line on April 23rd at the Atlantic Union Bank 10k Mini and Ukrop's Monument Avenue 10k presented by Kroger. Kids Run RVA is on a mission to remove any barriers these young runners may face in achieving their running goals. This includes providing footwear to kids in need of proper running shoes, offering discounted and complimentary race entries,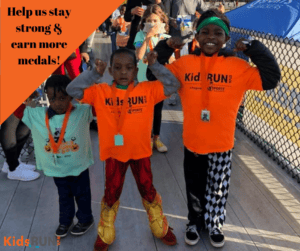 outfitting the run clubs in team t-shirts, and even covering the cost of bus transportation to and from the event. It's a busy time of year as we work to support the local youth run clubs and young runners and we know the time and effort will all be worth it when we see their smiling faces on race day. There isn't a better place to be than at the finish line on Franklin Street, watching these young runners grin from ear to ear as their race medals are placed around their neck!
Get Involved as a Volunteer or Donor
None of this would be possible without the passion and commitment of our army of volunteer coaches and the selflessness and generosity of our fundraisers and donors. If you are interested in getting involved as a volunteer coach, please reach out to us! While the spring season is already under way, it won't be long before we are setting our eyes to the fall and preparing to launch run clubs in the 2022-23 school year. You can also show your support by making a donation to the 2022 Running Ragnar For The Kids fundraising campaign or by helping to spread the word by sharing the fundraiser with your friends and family!