Movement on the Fall Line
Hiking the future Fall Line
There has been a lot of movement on the future Fall Line in the past few months.
This month, Bike Walk RVA helped organize a hike of the Fall Line with local, regional and state partners. We shared the vision and experience with them as they work to orchestrate funding and planning efforts to lead us to building out the Fall Line in record time.
Clark Mercer from Governor Northam's office hiked the publicly accessible sections from Petersburg to Ashland and was joined by none other than Senator Tim Kaine and his wife Anne Holton, Deputy Secretaries of Transportation Nick Donohue and John Lawson, Delegate Lamont Bagby, Delegate Lashrecse Aird, Mayor Levar Stoney, Hanover Supervisor Faye Pritchard, Ashland Vice Mayor John Hodges, and many partnering friends and staff from our localities and peer organizations including Friends of the Lower Appomattox River, BridgePark, Virginia Capital Trail Foundation, the Cameron Foundation, and Dominion Energy.
It was a very valuable experience to coordinate our efforts, share enthusiasm, and to see how amazing the trail will be. We couldn't have done it without two of our Bike Walk RVA Champions, Peggy Merritt and Garry Whelan, to help us pull it off.
Clark wrote a very nice op-ed for the Richmond Times Dispatch after the hike, which we encourage you to read and share with friends in the area.
Fall Line trail video
This month's hike took shape after our team member, Brantley Tyndall, set out last November to hike every portion of the Fall Line in order to get an immersive experience for what we are working to create for everyone in Central Virginia. Take a few minutes to watch and share this new video of the adventure.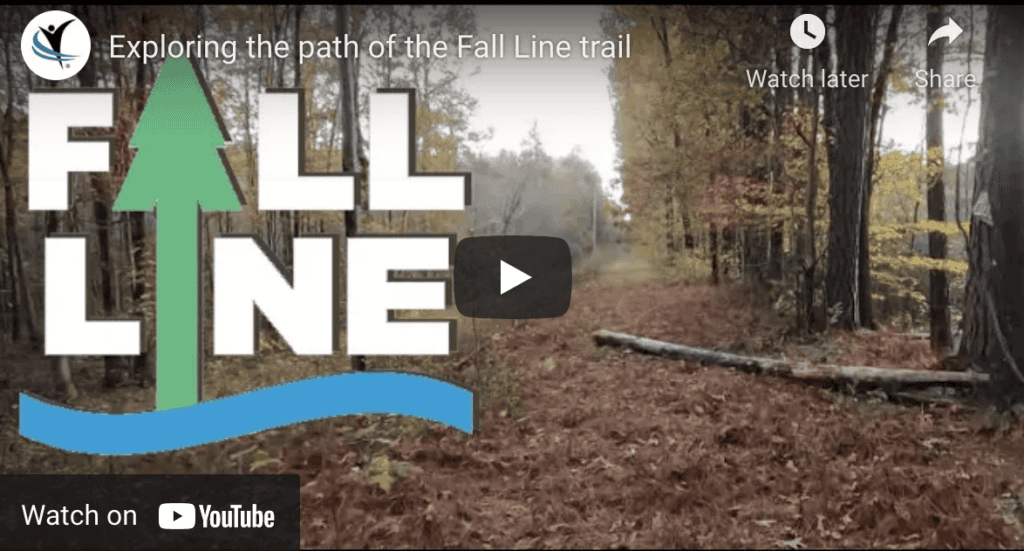 Join us soon
These hikes are a preview of more walk-and-talks focused on specific sections of the Fall Line coming in the next few months. We hope you join us to explore and envision this regional trail. If you're thinking "Trail yeah!", stay tuned to our social media @BikeWalkRVA and be sure to sign up for Fall Line updates to get info on trail progress, upcoming volunteer opportunities, hikes, rides, and more.