Fitness Warriors Celebrates Graduating Class, Gears Up for First-Ever Fitness Festival
By: Tiffany Copeland, Director of Fitness Warriors
---
Sports Backers' Fitness Warriors program celebrated another milestone earlier in the summer, graduating 13 new instructors on June 26, 2021. These tenacious individuals rose to the challenge during a pandemic to successfully complete their six-month comprehensive training program. From Zoom meetings to outdoor sessions, these amazing individuals did the work and are keeping the community moving with their weekly classes.
Graduates include:
Melodie Anderson
Jamiliya Hampton- Bowden
Joyce "JB" Brown
Anthony Clary
Cynthia Epps
Terrence "Tee" Hollowell
LaToya Kelley
Joy Massey
Cynthia "Cyn" Nwarche
Shervonda Sims
Shanna Sivels
Darrell Taylor
Darrell Taylor is also the Pastor of Fairfield Baptist Church where he leads his free weekly class on Tuesdays at 6:15pm. Darrell's personal experiences and fitness journey play a big role in his desire to help others stay active.
"I am a pastor, a father, a husband, a friend, and someone who cares about the community," Darrell says about his reasons for becoming a Fitness Warrior. Having personally dealt with high blood pressure, high cholesterol and pre-diabetes, Darrell isn't here to play games with his followers. He's here to share his story and motivate others to do better so they won't have to suffer like he once did.
"After losing both my grandfather and my uncle at young ages I didn't think I would live past my 20s so I ate what I wanted and did what I wanted," Darrell explained.
His kids and community have been the catalyst for his change. Not wanting to them to follow down the same path of poor health that he and his relatives had, Darrell decided to make personal changes when his daughter was diagnosed with a heart issue five years ago, when she was just 10. Darrell started with small changes. He removed such junk food from his diet while adding in whole foods.
"We didn't remove them completely; we understood the need for balance and just made it harder to access it," he said of the dietary changes. He's realized that it's the little things like making it easier to work out or making it harder to access junk food that has made the biggest impact so far, but he's not done yet.
Darrell's Fitness Motto is, "You got to get angry enough to do something about it. Do what you can until you can do better. And when you can do better… beat that!" He is doing just that as he continues to better himself. Now that he's a Fitness Warrior, he is excited to be able to share that with the community.
Join the Fitness Warriors at the First-Ever Sports Backers Fitness Festival on Sept. 18
Feeling inspired by Darrell's commitment to healthier communities? You can get moving with him and several of our Fitness Warriors at the first-ever Sports Backers Fitness Festival which will be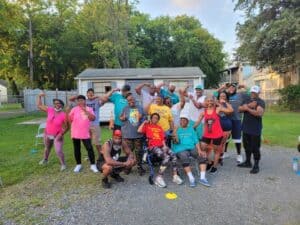 held on September 18th from 3 p.m.-6 p.m. at Chimborazo Park. The event will feature Fitness Warriors leading sessions on Pilates, Zumba, resistance bands, yoga, and more. The event is free but we encourage you to register for the event today at www.sportsbackers.org/events/fitness-festival/. See you at the Fitness Festival on September 18!