Trails & Ales Course Descriptions
Tall Boy
Our Tall Boy loop is an 7 mile-ish run that pairs medium to high climbs with smooth paths along the river. What might be considered strenuous is mellowed out with scenic views, earthy aromas, and a fun finish. Download the PDF version here!
The 7 mile start is a 10th and Railroad Avenue. Participants will head west on Railroad Avenue and then enter the Buttermilk East Trail. Participants will then transition to the Buttermilk Trail then later onto Buttermilk Heights until they get to the Boulevard Bridge. These two sections of the Buttermilk will provide participants with their most challenging moments of the course as it is known for its tight, twisty turns and steep climbs and descents with lots of rocks and roots. Participants can take a quick breather as they take in the gorgeous view above the James River while crossing the Boulevard Bridge. Then it is back to the trails as the course accesses the North Bank Trail. This trail has some steep ascents and descents similar to the Buttermilk but without as many technical turns. Near the end of the North Bank Trail make sure to check out the spectacular views of the James just below Hollywood cemetery. You'll exit North Bank trail at the Belle Isle parking lot. Enjoy views of the riverfront as you turn left onto Tredegar, and right onto Brown's Island at the vehicle access bridge. Continue straight across and onto the ramp for the Tyler T. Potterfield Memorial Bridge. Run straight across and take in one of the best views of the James in Richmond. Bear right after the bridge and had up switchbacks to the bridge over the train tracks. Finish your run back at the SunTrust parking lot.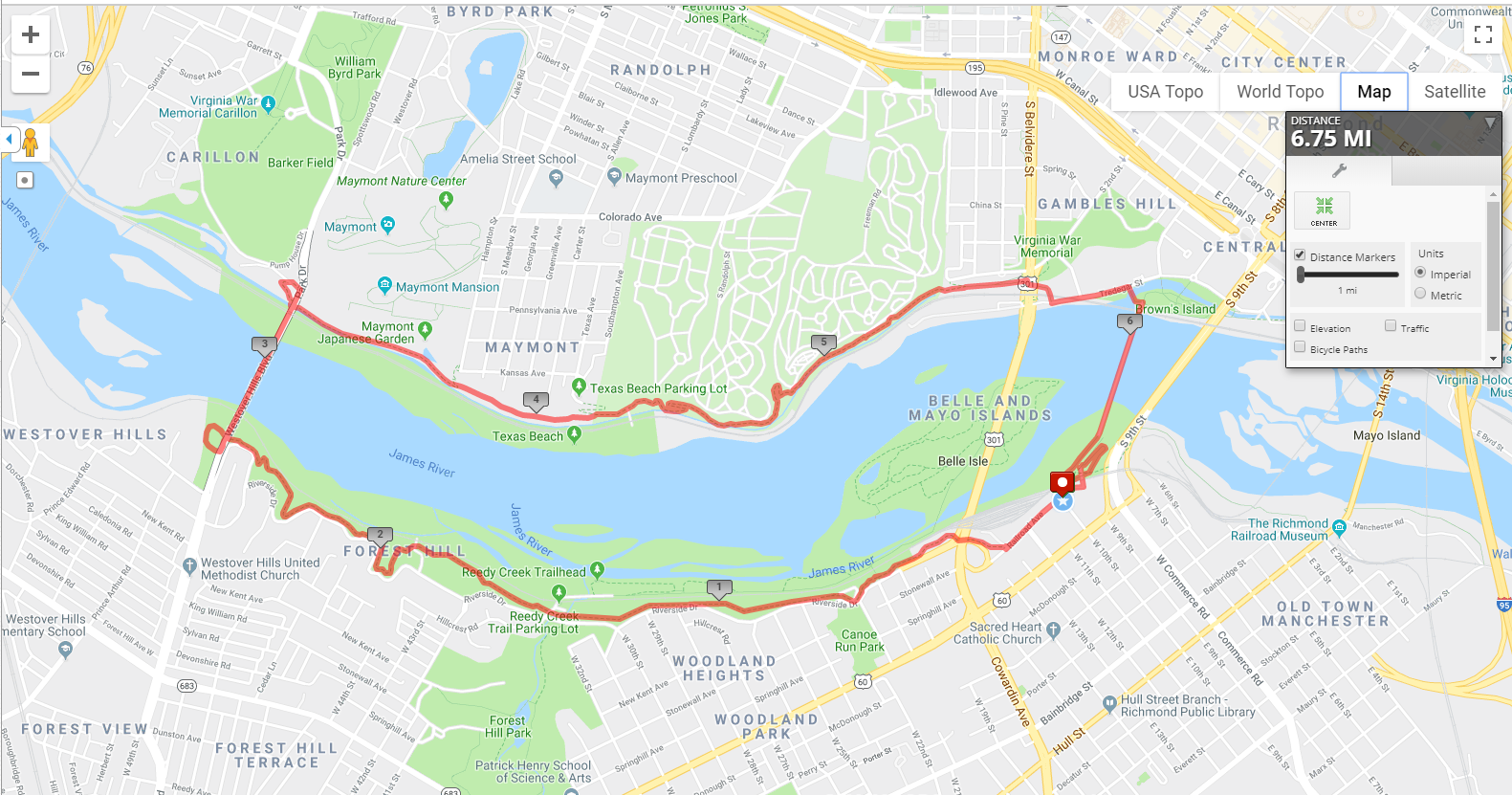 Pint Glass
At about a 5K distance, the Pint Glass run has lower mileage compared to its 7-mile sister, but shares the same earthy aromas and scenic views. This technical run boasts a hint of pine and lots of fun…especially at the finish!
The 5k(ish) course starts out the same as the 7 miler at 10th and Railroad Avenue. Participants will head west on Railroad Avenue and then enter the Buttermilk East Trail. After heading down the 22nd St. staircase, runners will access Belle Isle via the wooden vehicle access bridge. Once across the bridge, runners will turn left and run up to the top of Belle Isle, around the top of Belle Isle, and back down before heading towards the trails on the eastern side of the island. Runners will cross to the north side of the river via the Belle Isle pedestrian bridge and run on the sidewalk along Tredegar St. until turning onto the Brown's Island access bridge. After crossing onto Brown's Island, runners will head straight across the T Tyler Potterfield Memorial Bridge, around the switchbacks on the south side of the Teapot bridge, across the SunTrust Bridge and back to the finish.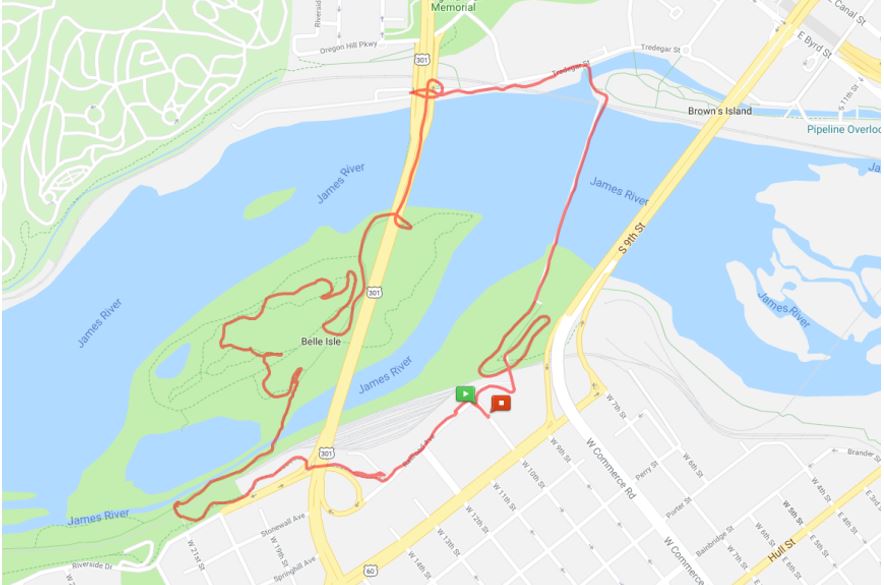 Featured Sponsors
View All Sponsors »