Run Bike Relay Course
*Course is subject to change as needed.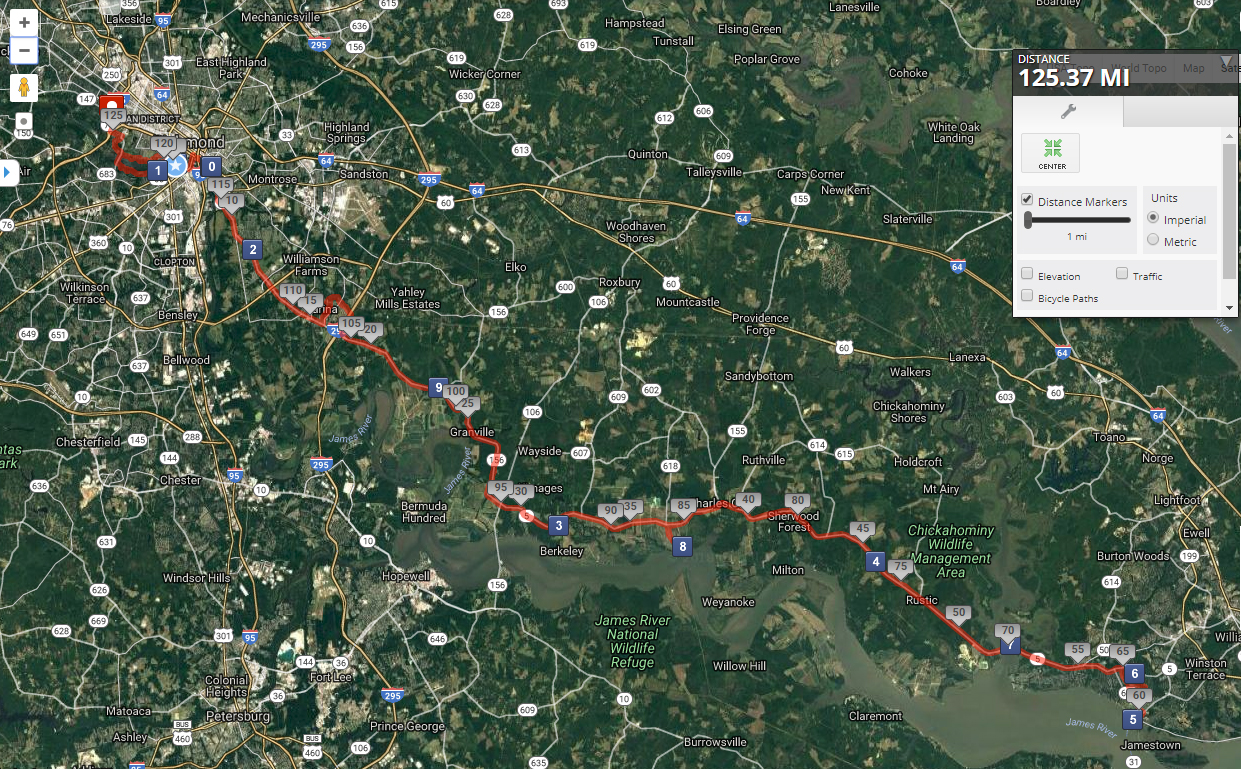 Check out the Mapmyrun.com course map here!
The Run Bike Relay presented by Ragnar will start at City Stadium with two run segments, covering the James River Park System's North Bank Trail, the T. Tyler Potterfield Memorial Bridge, the Canal Walk, and the first few miles of the Virginia Capital Trail.  Then, three biking segments will begin on the Virginia Capital Trail, taking participants all the way to the end of the trail at the Jamestown.  Here the next 2 run segments will start, including runs on the Virginia Capital Trail and Greensprings Trail. The next 3 bike segments will begin at Chickahominy Riverfront Park in James City County, heading back to the Virginia Capital Trail, and eventually back to Great Shiplock Park in Richmond. Here, participants will complete their final 2 run segments – back through the James River Park System, this time on the Buttermillk Trail, through Byrd Park,  and finishing at City Stadium. Once finished, participants will receive their well deserved race swag and can head to one of RVA's awesome local brunch spots to celebrate a hard earned finish!

For a PDF of this chart, click here.
Health Warrior Transition Zone Locations
For a PDF featuring maps of each of these locations, click here.
HEALTH WARRIOR TRANSITION ZONE
ADDRESS
OPEN & CLOSE TIMES
Manchester Climbing
Wall Parking Lot
Semmes Ave, Richmond, VA 23224
(just before Semmes & 7th Street)
8:30pm – 1:15am
Varina Veterinary Clinic
1320 New Market Rd
Richmond, VA 23231
9:15pm – 2:15am
Herring Creek Trail Head
Herring Creek Rd
Charles City, VA 23030
10:25pm – 3:30am
Sandy Point Superette
17701 John Tyler Memorial Hwy,
Charles City, VA 23030
11:10pm – 4:30am
Jamestown Beach Event Park
2205 Jamestown Rd,
Williamsburg, VA 23185
12:00am – 5:20am
Greensprings Trail Head
Eagle Way, Williamsburg, VA 23185
(Just past Jamestown High School)
1:35am – 6:15am
Chickahominy Riverfront Park
1350 John Tyler Hwy,
Williamsburg, VA 23185
2:15am – 7:05am
Lawrence Lewis Jr. Park
12580 Wilcox Wharf Rd,
Charles City, VA 23030
3:10am – 8:15am
The Fork on 5
5164 New Market Rd
Richmond, VA 23231
4:00am – 9:40am
Shiplock Park
2803 Dock St
Richmond, VA 23223
4:55am – 10:45am
22nd Street Parking Lot
Riverside Drive & 22nd Street
Richmond 23225
5:30am – 11:40am
Featured Sponsors