Sports Backers Half Marathon Training Team Kicks Off Aug. 7 and Aug. 8
Program prepares runners for November 13th CarMax Richmond Half Marathon
---
RICHMOND, VA – The Sports Backers Half Marathon Training Team kicks off the training period for this year's team with group runs at City Stadium beginning on Saturday, August 7 and Sunday, August 8. Registration remains open for the Half Marathon Training Team at www.richmondmarathon.org. The team is led by head coach Cheryl Groce-Wright, a former participant who has been coaching with the program since 2012.
Group Approach to Training Led by Experienced Coaches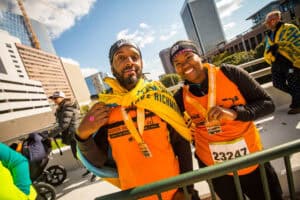 This 14-week program is designed to prepare runners for the CarMax Richmond Half Marathon, which takes place on Saturday, November 13th and is part of the VCU Health Richmond Marathon weekend. The program emphasizes the group approach to training.
"I enjoyed every part of the Half Marathon Training Team and running my first half marathon! The coaches were incredible and the support from the other participants was amazing," said Sarah Golightly, a past Half Marathon Training Team participant. "I had no idea what to expect, and I was truly blown away by the camaraderie. The race itself was spectacular! I felt very prepared and capable."
"I am so thankful that I found this group," added past participant Rachel Pryor. "It has helped me challenge myself in ways I never thought possible."
Saturday and Sunday Training Options Available
Participants will meet at City Stadium every Saturday or Sunday morning for a group run with experienced and knowledgeable coaches who offer training advice and feedback. During the week, runners follow a written training schedule on their own that will gradually prepare them to safely complete 13.1 miles on November 13. Half Marathon Training Team participants will receive:
14-week training program starting on August 7th and 8th (participants choose their preferred day) with a detailed written schedule for participants to follow
Personal guidance from veteran coach Cheryl Groce-Wright and her team of experienced coaches
Organized and supported weekly group Saturday or Sunday morning runs from City Stadium
A special Sports Backers Half Marathon Training Team shirt and technical race shirt to wear during the race
FREE entry in the 2021 CarMax Richmond Half Marathon and all associated race benefits
Special race day support from coaches along the course
Special clinics on subjects like nutrition, running attire, and other related topics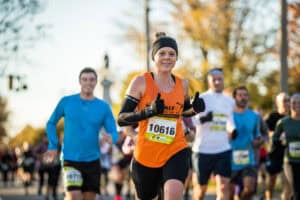 Also available is a virtual training team option, in which participants will be equipped with a detailed weekly program and have access to experienced coaches to correspond with throughout the training process. Virtual team members can take part in the final 12-mile supported training run in Richmond. On race day, participants will be provided with a meet-up tent in the finish festival (shared with the Marathon Training Team).
Income-Based Rate Available for Half Marathon Training Team
At Sports Backers, our mission is to inspire people from all corners of our community to live actively. Engaging underserved populations is one of our core values. One way we act on this value is by offering Income-Based Rates for all of our training teams. These special rates are offered to those who qualify and would otherwise not be able to participate. For more details and information, please visit https://www.richmondmarathon.org/training/half-marathon-training-team/
The cost of the Half Marathon Training Team is currently $155. This includes free entry into the CarMax Richmond Half Marathon. Add the virtual training program to your CarMax Richmond Half Marathon registration for $55. Online registration is available through September 5. Visit www.richmondmarathon.org for more information.
###