High School Sports in RVA Make a Comeback, Scholar-Athlete Awards Follow Suit
By: Jacki Quinlan, Director of Youth Programs
---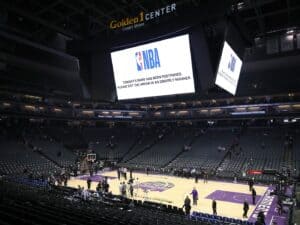 By this point in time, COVID-19 has impacted nearly every facet of our lives. From places of business working remotely, churches taking their services to livestreams on social media platforms, and schools going virtual, there wasn't much that was left untouched by this pandemic. One of the first real indicators that the world was truly shutting down was when the NBA announced, on March 11th of 2020, that they were suspending the season "until further notice." From that point forward, sports leagues of all types and from all across the world followed suit. Players were benched in a way they had never been benched before, including the Virginia High School League (VHSL) sports teams here in the Richmond region.
Despite the challenges, Sports Backers, in partnership with the Richmond Times-Dispatch, pushed forward and awarded the Scholar-Athlete Award scholarships that have been a tradition in our community for over 25 years now. The award amounts were slightly less and there was no grand ceremony at the Jefferson Hotel to attend, as the awards program went virtual, but we refused to let the students suffer the consequences. At the time, we were forced to put the monthly Scholar-Athlete recognitions on hold because it simply wasn't possible to nominate students for a sports award during months that sports weren't happening.
Well, in case you haven't noticed, fields are once again being worn down by cleats, start lines are full of excited athletes, and referees are busy bouncing from school to school. That's right – high school sports are back! And after a year and a half of the monthly Scholar-Athlete awards program being on hold, we are eager to get back to recognizing our region's finest scholar-athletes with these prestigious monthly awards. The winners will be featured in the pages of Richmond Times-Dispatch Sports section each month and will receive a plaque to recognize their accomplishment. All seniors who are selected as the monthly winners also become candidates for the end-of-year Times-Dispatch/Sports Backers Scholar-Athlete Scholarship Awards.
So How Does It All Work?
Monthly winners are selected September through April of each academic school year. One male and one female are selected from all of the nominations each month to be recognized as the Scholar-Athlete of the Month.
Nominations are accepted between the 1st – 10th of each month to recognize a student for the previous month. For example, to nominate a student-athlete for accomplishments during the month of September, the nomination window is open between October 1st – 10th. Nominations should be made by the school's activities/athletic director or the athlete's coach, and in order to be considered, a student-athlete must meet the following criteria:
Be in grade 9, 10, 11 or 12
Have at least 3.0 GPA from the previous semester
Be in good academic standing
Play a sport during the month in consideration
Possess good character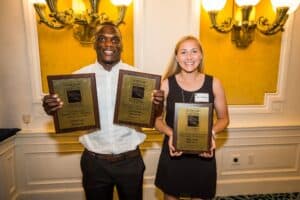 Our region boasts some truly outstanding scholar-athletes – one look at our previous winners will confirm that truth. We can't wait to continue building on the legacy of those who have earned these awards in years past. You can learn more at www.sportsbackers.org/programs/scholar-athlete-awards-program.