Fitness Warriors Create Family Vibes at the Annual Warrior Nation Celebration
By: Tiffany Copeland, Fitness Warriors Program Manager
---
Family vibes. When you hear that phrase, do you ask yourself, "What is that?" or "Is that a thing?" Well, if you've ever felt a connection with someone because you share a common bond, that's a family vibe. And creating the connections that lead to family vibes is one of the strengths of the Fitness Warriors program. Warriors have a knack for creating family vibes whenever they are together, whether that's in a training session, while leading an in-person class, or a virtual gathering over Zoom. And each year in January, the program pulls together its volunteers, funders, participants, family, and friends to celebrate their collective work and achievements. During this event, you would normally see Warriors dressed up and heading to Church Hill's Robinson Theatre for drinks, laughs, dancing, and fellowship! Well, as you might have guessed, we weren't at the Robinson this year and like many things, due to COVID-19, we had to move the festivities to Zoom.
On January 31, 2021, more than 45 Warriors came together virtually to celebrate the accomplishments of the previous year. With the help of State Delegate Lashrecse Aird of Petersburg, we kicked off the festivities with love and words of motivation for the future. Although the celebration took on a different format, we kept true to its usual spirit and handed out  the program's annual awards, including the Class Participant Standout and Outstanding Host Site. Warriors Yolanda Jones and Shannie Holland presented a new superlative this year, the Heavy Hitta Challenge. This challenge called on the Warriors to create a short fitness video that showed why they wanted to be a Fitness Warrior, while showcasing the skills they gained through the program. This year's winner, Marica Moore, blew away the audience and impressed the voters with her yoga video
Please help us in congratulating our winners for 2020!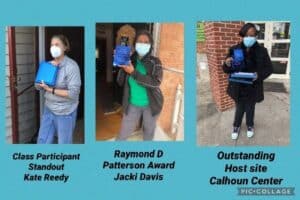 Class Participant Standout: Kate Reedy
Outstanding Host site: Calhoun Center, accepted by Eliza Stokes
Raymond D. Patterson Award: Jacki Davis, Warrior 8th Class
During the celebration, we also recognized the winner of the Raymond D. Patterson Award, which was presented by his son, Rhayshad Patterson. Rhayshad shared some moving thoughts on his late father, and reflected on his commitment and dedication to creating active living opportunities for others. Those traits are shared by this year's Raymond D. Patterson Award winner, Jacki Davis of the Warrior 8th Class. Take a moment to listen to the entire award presentation below:
The full video of the Annual Warrior Nation Celebration can be viewed online, and our overall impact can be seen in our annual program evaluation. Through celebrating our volunteers and lifting up our community, we will continue to grow stronger and bring fitness opportunities to more people.
Remember that family vibe I mentioned before? You can catch some of those amazing vibes in any of our FREE classes. Check out our Spring class schedule and register today.