Fitness Warriors Celebrate Five Years of Impacting the Community
By: Jacki Quinlan, Director of Community Outreach
---
Sports Backers' Fitness Warriors program hasn't been around that long; in fact we are only in our sixth year of operation. But a lot has been achieved during those first five years and we would be remiss if we didn't take a moment to reminisce. Each year we host the Annual Warrior Nation Celebration, an event held each January to celebrate the accomplishments of the previous year, honor the most recent graduates from the program, and give out some special awards for host sites, class participants, and Warriors. As we were planning this year's event, it dawned on us that we weren't only celebrating 2019 – we should be celebrating the five years of programming that got us to where we are today!
So we started crunching the numbers and realized that – wow – we've trained 128 community members to serve their community through free fitness classes. The bigger wow?  Over 5,000 people have gotten active with the Fitness Warriors. We thought about how the program started out offering just a few classes in the East End of Richmond and how now there are nearly 60 classes spread across the region, from as far north as Ashland to as far south as Sussex, out to Charles City east of the city and all the way down 360 west to Nottoway County. We reflected on how we got our start as a pilot program, led by Lead Trainer Ricky Martin, which was spawned out of the East End Health and Wellness Initiative, spearheaded by the Honorable Cynthia Newbille, Councilmember and President of the Richmond City Council. She was a part of our humble beginnings but is also a part of the SisterFund, a giving circle that, in 2019, awarded a $20,000 grant to the Fitness Warriors program to continue growing our impact in the community. Who better to serve as the keynote speaker at this year's annual Warrior Nation Celebration, which had quickly become a Quinquennial Celebration too, than the Honorable Cynthia Newbille herself?
As she graced the stage, she began telling folks how the Fitness Warriors got started, how it's now spread across the entire region, and how grateful she is for Sports Backers leading the effort. But it was when she addressed the Warriors directly that one could really get a sense of how important this work really is. "Because of your efforts, we have fewer people who are becoming ill, dying too early, too often from preventable, and/or treatable health conditions," she explained to the audience. "That's the difference you're making. This is about health and wellness. This is about life and death. And you're making that difference."
It's true: Warriors are making a difference in people's lives.  We know it intuitively because we see the people in our classes week after week, they tell us they feel better, and we celebrate the milestones accomplished on their health journey. We also know it because the data shows it. With support from Virginia Commonwealth University's Department of Statistical Science and Operations Research, the program conducts a comprehensive evaluation each year. Click here to see our most recent Annual Program Report, which tells the story of the Warriors and gives the facts to back up what we are doing in the community.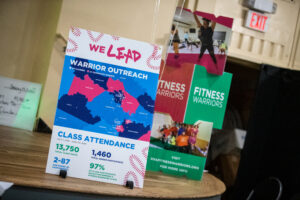 If you want to get an inside look into what the Fitness Warriors is all about, you can check out this short video that debuted at this year's Warrior Nation Celebration.  Better yet, check out one of the high quality, free fitness classes Warriors are teaching eevery week across the region. You can find a map and list of the classes by clicking here. And, while we aren't going anywhere and are in this for the long haul, there is no better time to try us out because during the month of February we are offering free (up to $15) Lyft rides to and from our classes.  Contact us at [email protected] if you want to take us up on our offer to Lyft to a Fitness Warriors class near you! See you there!