Cousins for Chuck: Celebrating a Family Member's Legacy from Across the Country in the Great American 5000
The team 'Cousins for Chuck' was created in May of 2020 by family members of Chuck Provenzano, to celebrate his memory after he passed away from COVID-19. The members were spread across the country, and they came together virtually to take part in the inaugural running of the Great American 5000. Meghan Keogh, one of Chuck's cousins and a Sports Backers staff member, organized the team and she shared the story along with more details on their experiences in this Q&A. The rest of the team members and cousins or cousins-in-law were Matt Lynch, Tracy Kettering, Mike Keogh, Lydia Lynch, Mike Provenzano, Robin Lynch, Kevin Lynch, Samuel Lynch, Michael Lynch, Laura Lynch, Brian Lynch, Phillip Ragan, Katarzyna Ragan, Patrick Lynch, Sarah Lynch, Tracy Provenzano, Joseph Provenzano, Nicholas Provenzano, Mark Lynch, and Daniel Lynch.
Sports Backers: Tell us about Cousins for Chuck: who took part, and who was it meant to honor?
Meghan Keogh: Last April, my cousin Chuck Provenzano passed away after contracting COVID-19 and at the time we couldn't all get together. So, we decided to get together virtually, and the Great American 5000 was a way for us to do something since we couldn't all be with each other in person to honor him.
SB: Tell us about Chuck Provenzano
MK: He was in his early 50s, he has two sons, and he was the oldest of 17 cousins. Of the 17 of us, 14 of us grew up within five blocks of each other in Belmar, New Jersey. Five of my dad's seven siblings still live within five blocks of each other. So it was a very close family. Growing up, we did everything together. Every holiday, every birthday. It was certainly a close-knit group.
SB: So there was a family connection with Belmar as the hub, but the team members on Cousins for Chuck were spread across the country?
MK: Yes, all 17 of us are spread all over the place. We had participants from New Jersey, Virginia, Wisconsin, and California.  Not all 17 cousins participated, but everyone was certainly supportive. We also created a Facebook page so that people could track our progress, share pictures, stories, memories, things like that.
SB: Like you said, the idea was that since family members who were spread across the country couldn't get together in person to celebrate Chuck's life, doing it virtually was the next best way to do it. And there are a lot of different ways to do something like this virtually, but doing it through an event like the Great American 5000 added another layer to it. How did that idea come about?
MK: I got the idea of creating the team after our coworker, Ashlee Snider, said she was going to create a team with her college soccer teammates who she didn't get to see very often as a way to reconnect with them. She mentioned that in a staff meeting and that's what got my mind going. Then I sent an email to all the cousins about creating a team, and the response was almost immediate. I think within five minutes I had someone reply back saying, "Yes, I'm in, this is great!"
SB: This was an event based on covering 5,000 kilometers to get across the country, from San Francisco to New York, by running and walking. Were there various levels of running experience represented on the team, in terms of avid runners, casual runners, walkers, and people who didn't have much experience but wanted to take part anyway?
MK: We were across the board in terms of experience. We definitely had some people who were not runners, or even very active walkers, but this provided some extra motivation for people to get outside and put some miles in. Everyone on the team contributed, some more than others, but everybody was making it happen. We had some avid runners who put in a lot of miles and a lot of time, but it definitely motivated other people to get out, not just to be a part of the team, but to do it honor of Chuck.
SB: One of the goals of the Great American 5000 was to help people stay connected with their teammates during a very challenging time, which would have been made even more difficult in your team's case due to the death of a family member. What was your connection and engagement like during the event?
MK: We had the Facebook group, which was more than just the team, it was also other family and friends. That was used mainly to track our progress, and we would update people as we crossed a new state line. And then we also had group emails going around with everybody just talking about their experiences, how far people had gone, and where they had visited. People were checking out new trails and running and walking in different places and sharing stories about that. We had a little bit of fun calling people out amongst the group, if we noticed someone hadn't put any miles on the team leaderboard in a while. We definitely had some fun.
SB: Did people share stories and memories of Chuck throughout the process?
MK: Yes. Two of his siblings didn't actually participate on the team but they were very active in sharing stories and memories of Chuck with the group. And the Great American 5000 actually kicked off on the birthday of Chuck's father, who passed away in 1998. That was a really nice way to remember both of them as we started the journey.
SB: Did you get the sense that your teammates continued walking, running, or otherwise staying active even after the team reached the finish line?
MK: Yeah, definitely. One of our team members mentioned to me that one of her favorite times during the event was pushing her kids in a double stroller every morning, and she was going to continue doing that because it was the best part of her day.
I had another cousin who reached out to me recently, and asked if we were doing any more team events because it really motivated him to be active on a consistent basis. I know for myself it was motivating to go out multiple times in a day and put in some more time.
We had a few family members who weren't part of 'Cousins for Chuck' join us later in 2020 for the Great European 2500, because they were so motivated to get active after seeing us put in so many miles. We also put together a team for the Warm Up Fitness Challenge in early 2021. And we are going to have another Great American 5000 team for this year's event.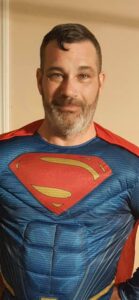 SB: Looking back on it, do you feel like you captured the spirit and memory of Chuck in the way you'd intended when you came up with the idea to create the team and get everyone together virtually?
MK: I think so. One of the things I remember about him was how much he loved life. He loved to travel, and he loved to be around people. We were all very close. At Thanksgiving in 2019, we had just about all of us together. For one of my aunts, it's her favorite day of the year. I think we had about 55 people in her house at one point during the day, and 35 that sat down for dinner together that night. That was the last time we were all together in one place at the same time, and even though we were all crammed into one house, it was just like old times. And so I think being part of 'Cousins for Chuck' really captured the elements of fun that he loved about life. He loved to be around people, so this was a good way for us celebrate that.